A Cunard Voyage from Perth to Singapore
Includes a 2 night hotel stay in Singapore
Limited Availability | FREE Flights & Hotel Stay | Exclusive to Imagine Holidays
Get the full experience...
Settle in for a luxury Cunard voyage, discovering the blessed island of Bali and mysterious Jakarta, before disembarking in Singapore for a hotel stay.
Embark the regal Queen Elizabeth, one of the finest cruise ships sailing the five oceans. Stunning accommodation and the most exceptional fine dining you'll ever experience at sea are just some of this ship's glamorous highlights. Spend three days at sea where you could indulge in a wondrous array of entertainment and activities. Enjoy a traditional afternoon tea served by white-gloved waiters, don your finest attire at a Gala Ball or challenge your fellow passengers to a deck game or two.
The blessed island of natural wonders, Bali, awaits. Anointed with a cornucopia of natural wonders including volcanic hillsides, magnificent mountains, tranquil emerald waters and flourishing rainforests, the island also offers a rich culture that's characterised by profound spirituality. Discover its traditional 'gamelan' music and watch the elegant choreography of elaborately dressed Balinese dancers, absorb the tranquillity and awe-inspiring views of some of the islands most architecturally beautiful temples or discover Ubud, the cultural heart of Bali.
After two more days at sea, you'll arrive in Jakarta, capital of Indonesia. Full of contrasts and colour, this booming capital city is a snapshot into all Indonesia has to offer. Get your bearings with a ride to up to the top of the Jakarta Skye Tower, get a taste of Indonesia at one of the many street food stalls or explore The National Museum.
Your cruise ends in Singapore. Savour an overnight in port before disembarking for a two-night hotel stay in this astounding metropolis, a city of curious contrasts and exotic fusions, where sacred temples sit in the shadows of science-fiction-style architecture. Lose yourself in the colourful otherworldly structures at Gardens by the Bay with a walk along the aerial walkway, embark on a bumboat river cruise through the sapphire waters, taking in the striking landmarks of the city. Or escape the city to Kusu Island, a stunning turtle habitat with ornate shrines and glorious beaches.
Package Includes
FREE flights & taxes
Cruise
10 night full-board cruise on board Queen Elizabeth
Overnight in port in Singapore
FREE Hotel Stay
2 night four-star hotel stay in Singapore with breakfast
At a glance

Prices from
Here to help
Call to book:
1800 958 405
Opening hours:
AWST: Mon to Fri 6am - 5pm | Sat & Sun 7am - 3pm
WHITE STAR SERVICE
Cunard prides itself on standards of service that go above and beyond, exceeding the expectations of their guests. From the warm smile that welcomes you on board, to round the clock room service and the white-gloved hand that serves traditional afternoon tea. Cunard's White Star Service is the attention to the finest detail.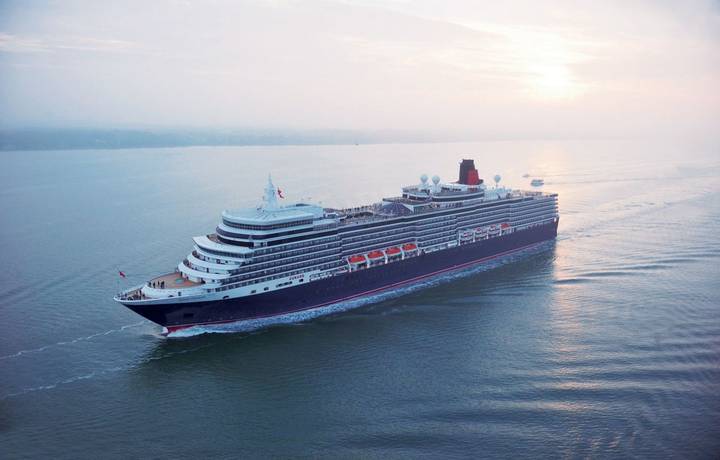 Perth
- Embark Queen Elizabeth
Embark the regal Queen Elizabeth, one of the finest cruise liners sailing the five oceans and a ship that offers a little of the finer things in life to all passengers who sail with her. Enjoy Cunard's spectacular heritage, sense of occasion and huge array of activities, including ballroom-dancing, lawn bowls and afternoon tea in the Garden Lounge.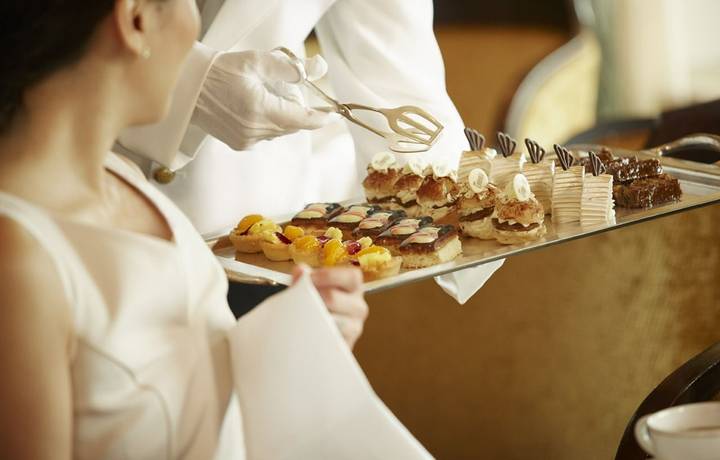 DAY 2 - 4
| 8 - 10 Mar 2023
You'll have plenty of options to choose from on your ocean-going days on board the Queen Elizabeth. One of the highlights of the voyage is undoubtedly the traditional English Afternoon Tea, featuring finger sandwiches, delicious cakes and fine teas – all served by Cunard's impeccably dressed white-gloved waiters.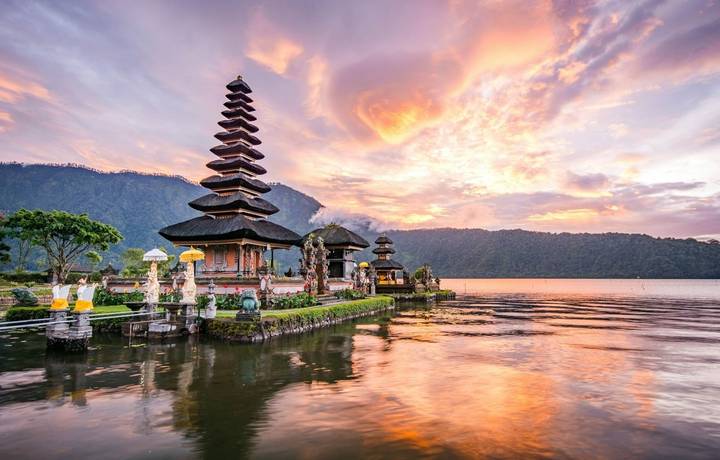 A striking contrast to Singapore's bustling city, Bali is blessed with a haven of natural wonders including brooding volcanoes, succulent rainforests and secluded beaches. Explore the iconic pura Ulun Danu Bratan, a major Hindu Shaivite Shive Temple, built in adoration of the Goddess Danu. Poised on the cusp of Lake Bratan, surrounded by the mountains near Bedugul, it's a magnificent sight to behold. Not far from Ubud, is the majestic Tegenungan Waterfall, spend some time in the enclosing lagoons and hear its powerful cascades as they tumble into the swirling waters below.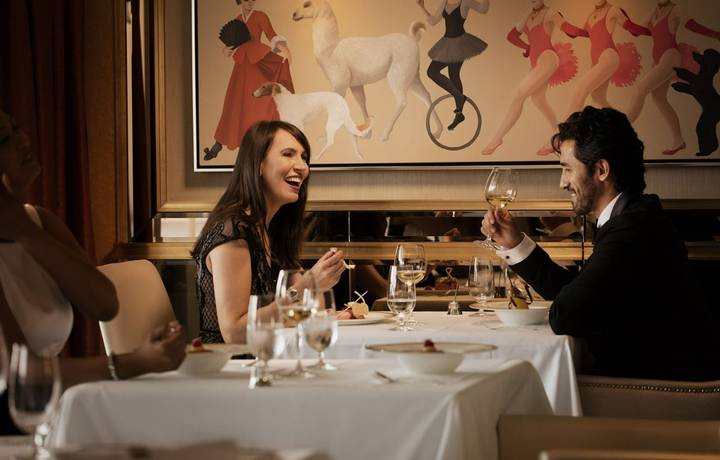 DAY 6 - 7
| 12 - 13 Mar 2023
Queen Elizabeth offers an array of elegant bars and lounges to suit every mood – during the day, sip coffee and nibble on croissants in Café Carinthia; enjoy pre-dinner drinks in the Midships Bar; toast friends in the Champagne Bar; and dance the night away in the Yacht Club.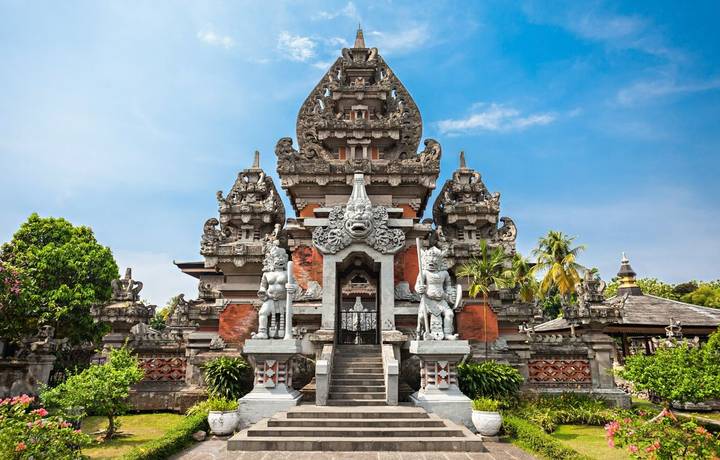 The capital of Indonesia is one of Asia's most exciting and liveliest cities, which is full of intrigue and mystery to enchant the senses. The range and cost of the shopping here is amazing, there is a stall out there for whatever you want, but one of the lesser-known traditions is in puppetry and the Wayang Museum does an excellent job of showing off this most famous of traditional art forms. For a hit of culture, escape to the Taman Mini Indonesia Indah, a magnificent park home to several striking museums, including the Balinese style Indonesia Museum.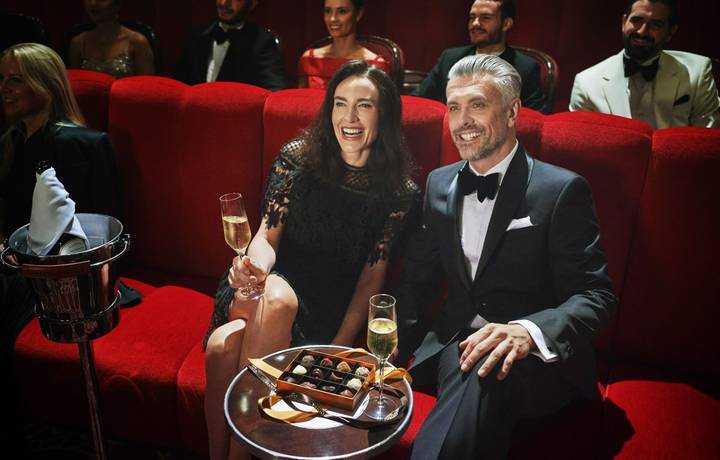 The entertainment on Queen Elizabeth is second to none, with a dazzling line up of acts and performances in venues that are known for their comfort and meticulously designed décor. Whether its live music, illusionists, West End-style cabaret or stand-up comedians, the talent on show at the Royal Court Theatre is truly world-class and you'll keep going back for more.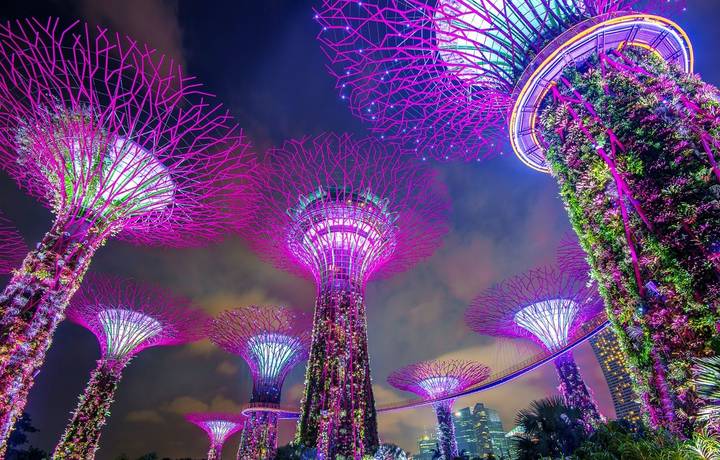 Singapore (Overnight in Port)
Welcome to Singapore, where sacred temples rest in the shadows of towering science-fiction-style architecture and pristine streets lead to wild rainforests filled with dense canopies of banana trees and cinnamon plants. The futuristic skyline features the modern skyscrapers of the iconic Marina Bay Sands and the luminescent Supertrees of the Gardens by the Bay. Spanning 101 hectares, here you'll find three waterfront gardens and a bar as well as a thriving ecosystem supporting 162,900 plants.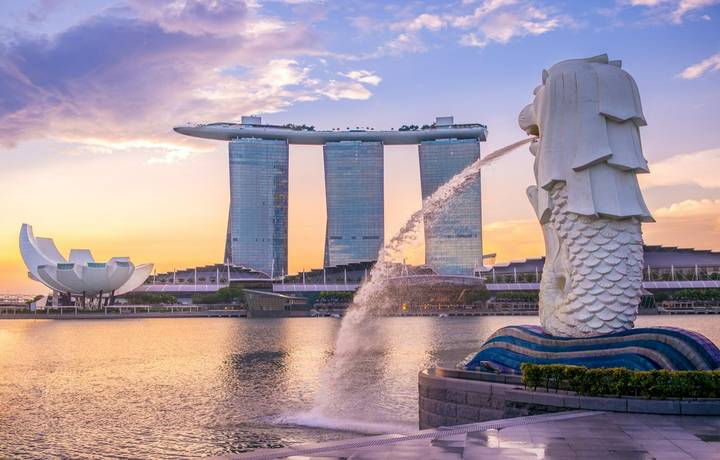 DAY 11 - 12
| 17 - 18 Mar 2023
Singapore
- Disembark Queen Elizabeth & Hotel Stay
Bid farewell to your ship and enjoy a two-night hotel stay in this vibrant city, a kaleidoscope of curious contrasts and mysterious fusions. A wonderful place to spend a day is Marina Bay Sands, a sprawling Las Vegas-style resort complex that's full of thrilling entertainment. An infinity pool also lies across its three main skyscrapers – an architectural marvel. Seek out the towering Merlion landmark, a mythical creature with a lion's head and the body of a fish, near the Central Business District; or wander through bustling Chinatown, a maze of narrow streets awash with restaurants, souvenir shops and cosy wine bars.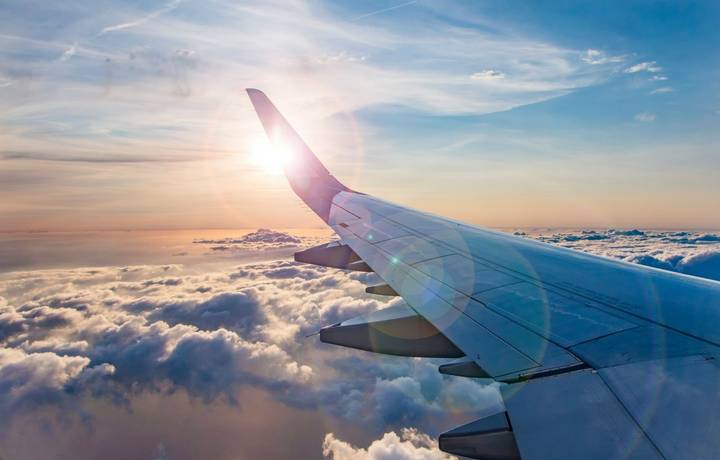 Today you'll fly home from Singapore.
Welcome aboard the Queen Elizabeth
When Her Majesty the Queen conducted the naming ceremony in her own honour in October 2010, she continued a marvellously regal formal cruising tradition. Cunard has maintained all the refined styling, amenities and service associated with the Golden Era of cruise sailing and added modern facilities, leisure and entertainment opportunities. Stunning accommodation and the most exceptional fine dining you'll ever experience at sea are highlights of the glorious Queen Elizabeth cruise ship. Dance in the grand ballroom, enjoy afternoon tea served by white-gloved waiters, watch extravagant stage shows in opulent theatre surroundings or simply relax and revitalise beside one of the two lovely pool areas.
Entered service: 2010
Tonnage: 90,900
Number of Decks: 12
Passenger Capacity: 2,092
Total Crew: 1,020
Number of Cabins: 1,046
Wheelchair Accessible Cabins: Yes
Number of Pools: 3
Number of Restaurants: 3
Kids Club: Yes

Entered service: 2010
Tonnage: 90,900
Number of Decks: 12
Passenger Capacity: 2,092
Total Crew: 1,020
Number of Cabins: 1,046
Wheelchair Accessible Cabins: Yes
Number of Pools: 3
Number of Restaurants: 3
Kids Club: Yes
regional flights available at a supplement
CALL TO BOOK:
1800 958 405
HOLIDAY CODE:
CRU2433