Green Island Resort Stay & Luxury All-Inclusive Silversea Cruise to Melbourne
Includes an all-inclusive luxury cruise on board Silver Shadow
Save up to $6,000 per couple - Book by 31.01.21 | FREE Flights & Hotel Stay
Get the full experience...
There's no better place to begin your holiday than the incredible Great Barrier Reef. Flying to the coastal city of Cairns, the gateway to this marine marvel, you'll spend one night in a hotel here, giving you the chance to take a boat ride into the adjacent blue waters which are teeming with everything from turtles to stingrays. Cairns itself is also full of life, with plenty of seafront bars and restaurants to while away an hour or two.
You'll then transfer to the Green Island Resort on the fringe of the Great Barrier Reef. Set on a tiny island, this remarkable eco-friendly accommodation has plenty to keep you entertained during a magical two-night stay. Take a glass-bottom ride or snorkel amongst the vivid coral reefs, enjoy a soothing massage with local products or visit Marineland Melanesia, a family-run complex that is part-museum and part-aquarium. It's even home to Australia's largest crocodile in captivity, the enormous Cassius.
Transferring back to Cairns, you'll then embark the luxurious Silver Shadow for your voyage to Melbourne. Packed with things to do and boasting lavish surroundings, Silver Shadow provides a sailing to remember as you feast on an array of fine-dining and take in a wide spectrum of entertainment at the Show Lounge.
You'll first stop at Airlie Beach, gateway to the Whitsunday Islands and where you'll find plenty of boutiques, cafes and markets to explore. At Brisbane, state capital of Queensland, you could stroll along the Brisbane River where you'll find some of its major attractions, from the Brisbane Wheel to the Lone Pine Koala Sanctuary.
You'll then sail to the city Newcastle at the mouth of the Hunter River before crossing the Tasman Sea to Hobart where you'll enjoy an overnight stay. Tasmania's capital is awash with Victorian and Georgian architecture, while nearby Mount Wellington is a popular place to visit for the views. Head to Salamanca Place for its markets and diverse food scene. A little further along the coast lies Port Arthur, your next destination and best known for its former convict settlement, now a fascinating open-air museum. You'll then head back across the Tasman Sea, stopping at Philip Island, a wonderful place to catch an abundance of marine life, including penguins, whales and dolphins
Before reaching Melbourne, where you'll disembark, you'll also visit Geelong. This fast-growing city is most famous for its Eastern Beach, an Art Deco throwback that transports you to the 1930s. Take an evening stroll along the atmospheric Baywalk to admire the wooden sculptures dotted along the path.
Package Includes
FREE flights, taxes & transfers
All-Inclusive Cruise
13 night all-inclusive luxury cruise on board Silver Shadow

Pre-paid gratuities and complimentary Wi-Fi on board
In-suite butler service and fully stocked fridge for all suites
All-inclusive beverages including Champagne, fine wines, beers and premium spirits
Hotel Stays
1 night four-star hotel stay in Cairns with breakfast
FREE 2 night four-star hotel stay at the Green Island Resort with breakfast

Surrounded by a world heritage marine park.
Award-winning restaurant with menu featuring locally sourced ingredients.
Two swimming pools and pool-side bar.
Water-based activities including snorkelling and windsurfing.
Great Barrier Reef glass bottom boat tour
At a glance

Prices from
Here to help
Call to book:
1800 958 405
Opening hours:
AWST: Mon to Fri 6am - 5pm | Sat & Sun 6am - 2pm | AEST: Mon to Fri 9am - 7pm | Sat & Sun 9am - 4pm
Great Barrier Reef
So big it can be viewed from outer space, the Great Barrier Reef is one of the planet's most spectacular natural wonders. Made up of over 2,900 individual reefs and 900 islands, it's also home to an abundance of marine life, from dolphins to turtles to stingrays, as well as the sea bed itself, carpeted in a dazzling array of colourful corals.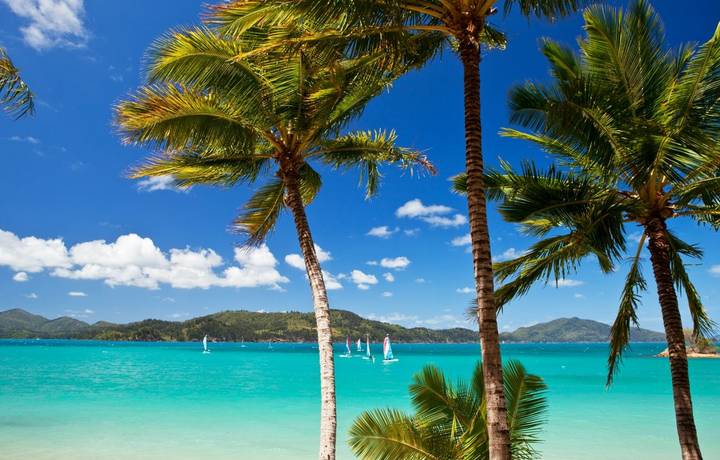 Fly to Cairns, gateway to the Great Barrier Reef, for a one-night hotel stay. Cairns is the gateway to the magnificent Great Barrier Reef as well as lively coastal town with a host of attractions – many of which are linked to the reef itself. Take an unforgettable boat trip that gets you amongst the endless corals and dazzling marine wildlife of this world-famous aquatic paradise. You could spot everything from stingrays to loggerhead turtles to playful dugongs.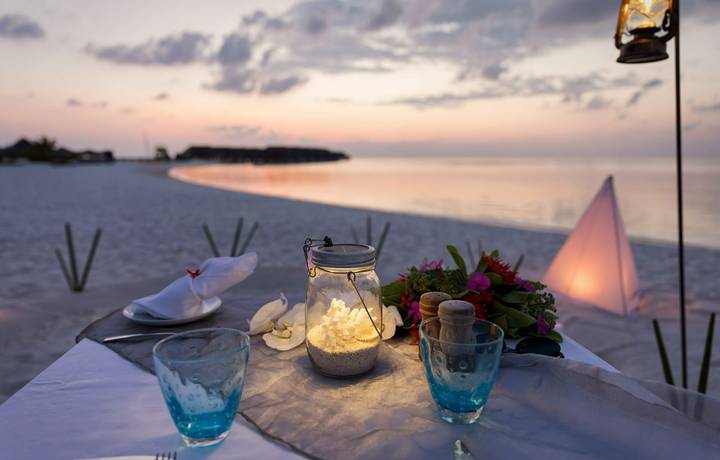 Green Island
- Hotel Stay
Today you'll transfer to the incredible, eco-friendly Green Island Resort which lies just a 45-minute boat-ride from Cairns and is the only accommodation on this speck of land on the edge of the Great Barrier Reef. For a jaw-dropping aerial view of the Great Barrier Reef you could take an unforgettable reef helicopter tour, while on the island itself you'll find walking trails and a massage salon whose treatments use pure Australian golden jojoba as its base oil.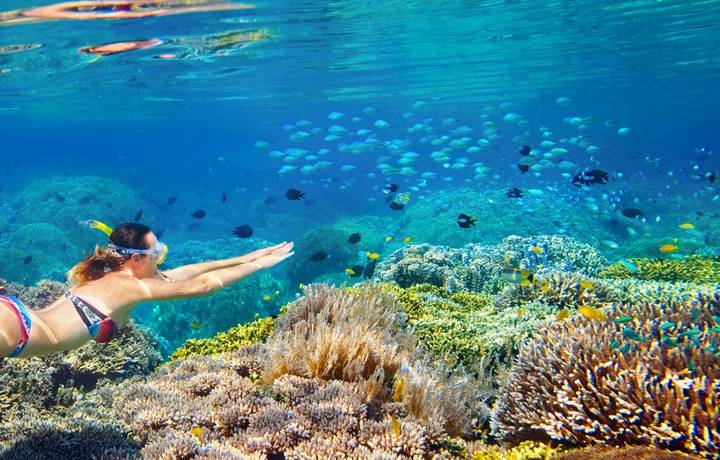 Green Island
- Hotel Stay
Explore the shallow waters around the island and their diverse marine life by snorkelling or via a glass-bottom boat tour. The island is also home to Marineland Melanesia, whose most famous resident is Cassius, the world's largest captive crocodile. Dine at the signature restaurant & bar, Emeralds, where you'll find exotic local produce on the menu or opt for a private and intimate picnic on the beach. Afterwards, sip a refreshing cocktail while cooling off in the water at the Reflections Pool Bar.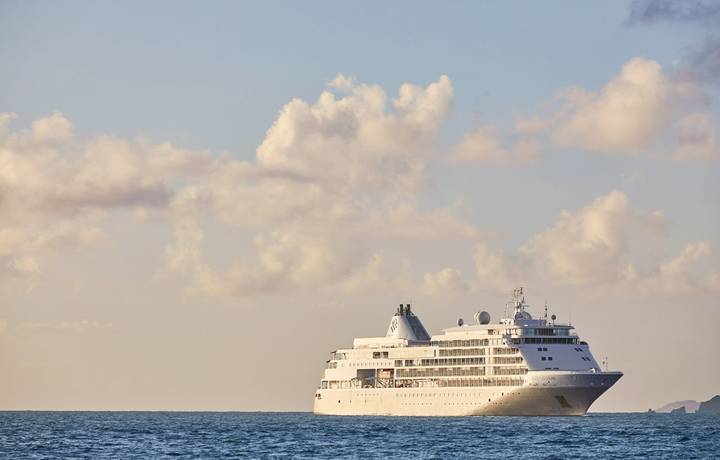 Cairns
- Embark Silver Shadow
Today you'll embark Silver Shadow for your voyage to Melbourne. The award-winning Silver Shadow offers a wonderfully luxurious experience at sea, with spacious suites and your own personal butler while on board. The 382-passenger, all-inclusive ship is the perfect size to offer a traditional cruising experience with an intimate feel that makes every passenger feel truly treasured.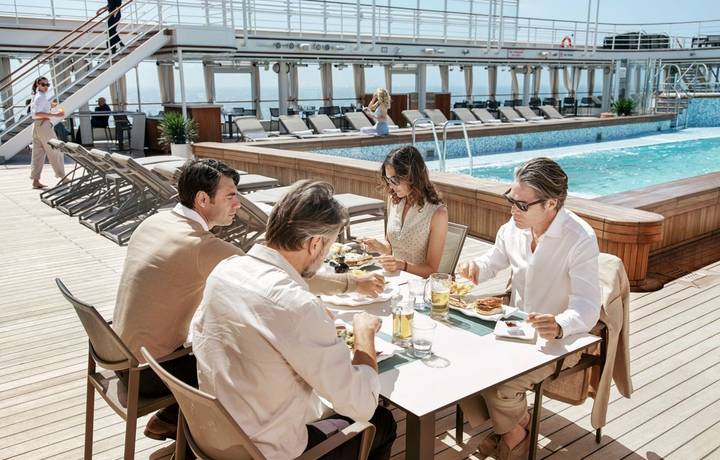 Dining with Silversea means feasting on some of the finest gourmet cuisine at sea. Sample the French gastronomic masterpieces at the chic and contemporary La Dame, try the international dishes at The Restaurant or try the Italian at La Terrazza. Dining venues aboard this superb ship offer open-seating dining, which means there are no assigned times and no assigned tables. You are free to dine when, where and with whom you please.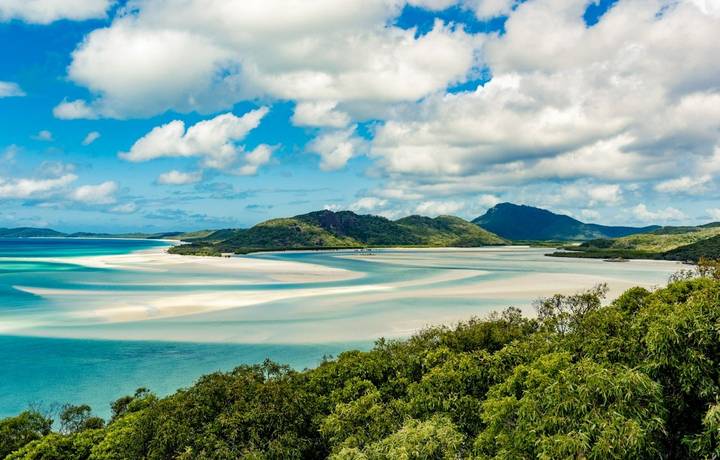 This relaxed town of palm-fringed beaches is the gateway to the sublimely beautiful Whitsunday Islands, while the Great Barrier Reef is also nearby. It has a small selection of boutiques, cafes and markets but its main attraction is the selection of adventure trips you can take. Sailing the islands, taking a scenic flight over the reefs or going on a snorkel safari are among your many excursion options here. Bask in the tropical atmosphere and find an ocean-front restaurant for the amazing views.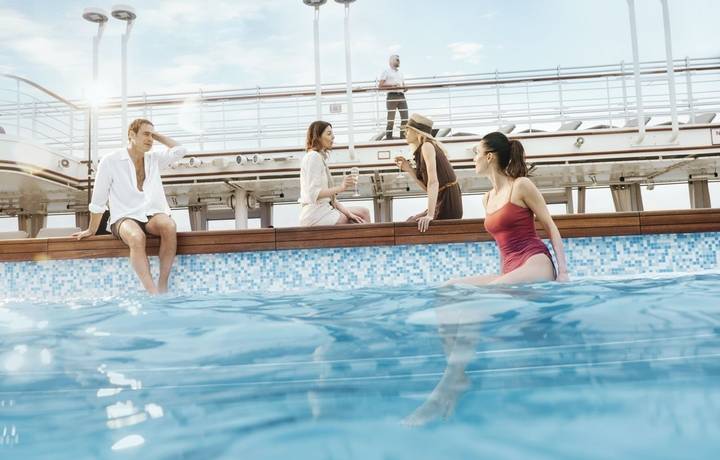 Make sure you soak up the best of the Silversea experience on your day at sea. This superb luxury cruise line leaves no stone unturned when it comes to its guests' satisfaction. Find an elegant corner of a bar or lounge to contemplate the adventures ahead of you. Or sit back in your spacious, ocean-view suite, make the most of the fabulous butler service.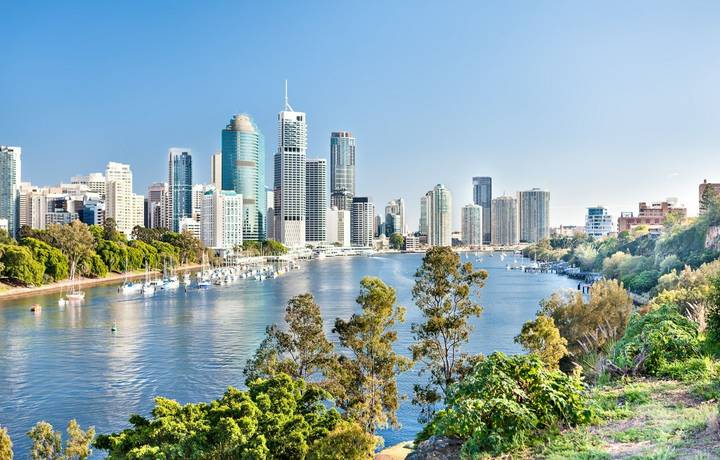 Australia's third most populous city, Brisbane is the capital of Queensland, known as the Sunshine State. Here you'll find sculptures, murals and mosaics peeking out from the streets, while unusual buildings like the Queensland Performing Arts Centre enhance the atmosphere of creative vibrancy. Enjoy a waterside lunch alongside Brisbane River where you'll find the city's famous Ferris wheel, or visit the Lone Pine Koala Sanctuary where, besides these cute marsupials, you can see kangaroos, platypuses, wombats and more.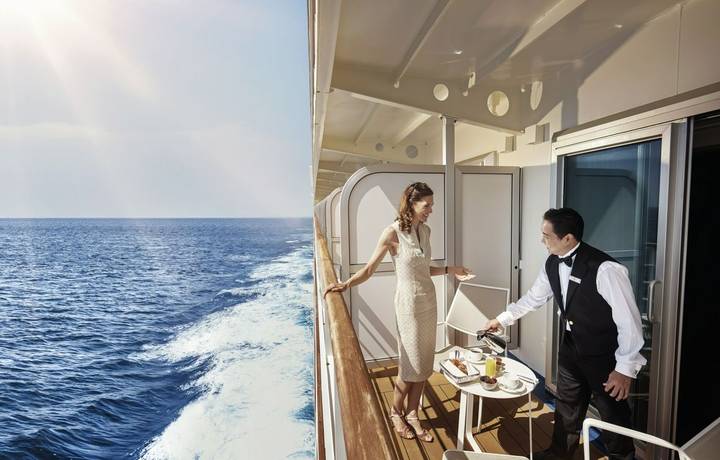 Silversea's round-the-clock butler service ensures all your needs are met on your days at sea. You'll find yourself attended to by immaculately clad, white-gloved staff, all of whom are professionally trained to the highest standards and are able to give you their undivided attention. Together with one of the highest staff-to-guest ratios at sea, it ensures a Silversea cruise is something truly special.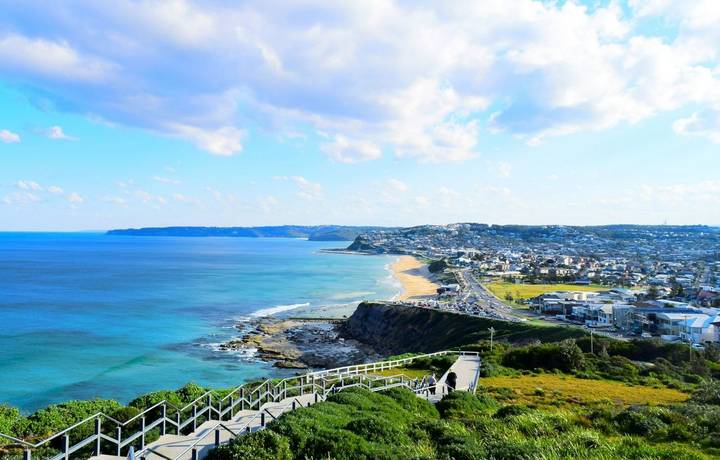 Newcastle, affectionately called "Newie" by locals, is an Australian beach paradise located at the mouth of the Hunter River. Historically a coal and steel town, the city boasts numerous beaches and a rich heritage of Victorian architecture. Today, the city is incredibly modern with fantastic dining and beautiful bays. Discover the sweeping blankets of the Stockton Sand Dunes, head to Nobbys Beach for stunning ocean vistas or lose yourself in Darby Street, awash with delicious eateries.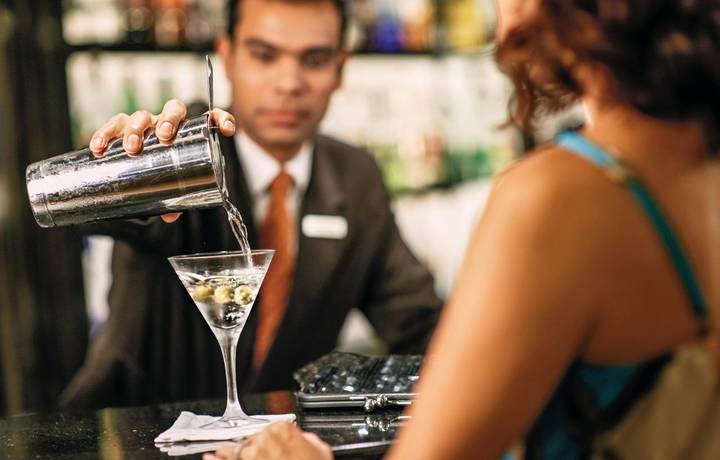 Enjoy complimentary cocktails, live music and engaging conversation with new friends at The Bar, or gaze out, drink in hand, at the vista from the Panorama Lounge. It's the perfect place to unwind, enjoy afternoon tea, listen to the pianist and watch the sun set. At Connoisseur's Corner you could settle into a plush leather armchair with a cognac and a good book.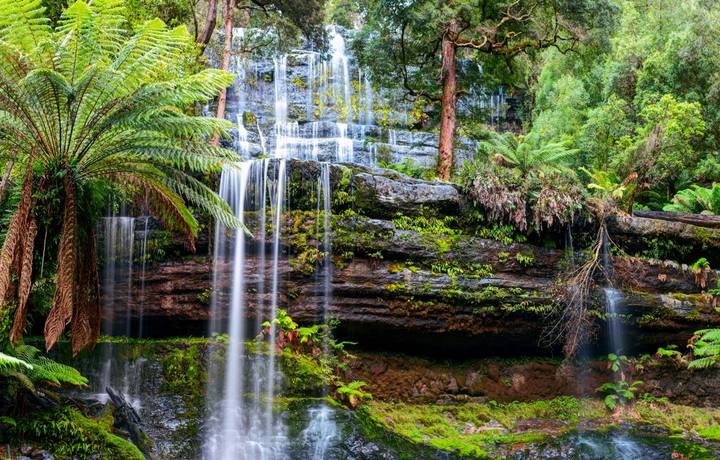 Hobart (Overnight in Port)
Hobart is a great place from which to explore the rugged beauty of southern Tasmania. Why not head for Russell Falls, a tiered-cascade waterfall in the Central Highlands region, which is one of the most picturesque in the country? Or get an aerial view of the area surrounding the city with a 30-minute plane trip, taking in the majestic Derwent river. To see many of the island's flora in one place, wander the Royal Tasmanian Botanical Gardens.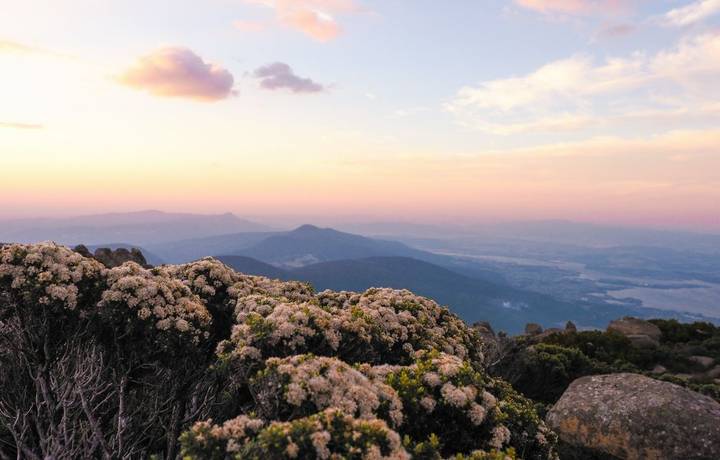 Hobart, founded at the turn of the 19th century as a British penal colony, is known for its well-preserved colonial architecture, much of which was built during the Georgian and Victorian eras, giving the city a charmingly old-world demeanour. While here you'll be able to choose from a wealth of exciting activities such as a city highlights tour, a hike to nearby Mount Wellington or a visit to the Bonorong Wildlife Sanctuary. Salamanca Place is also a wonderful area to roam for great food and souvenirs.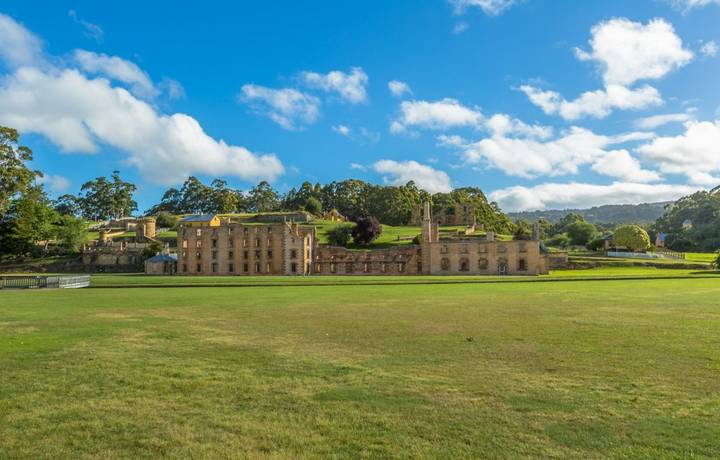 Just south of Hobart on the tip of a peninsula jutting out into the Tasman Sea lies the tiny town of Port Arthur. This former convict settlement was notorious within the British penal system due to its harsh conditions and strict security. These days it's one of Australia's most significant heritage sites and an open-air museum. Wander around the various buildings to learn how British convicts deported to Australia in the 18th century served their sentences.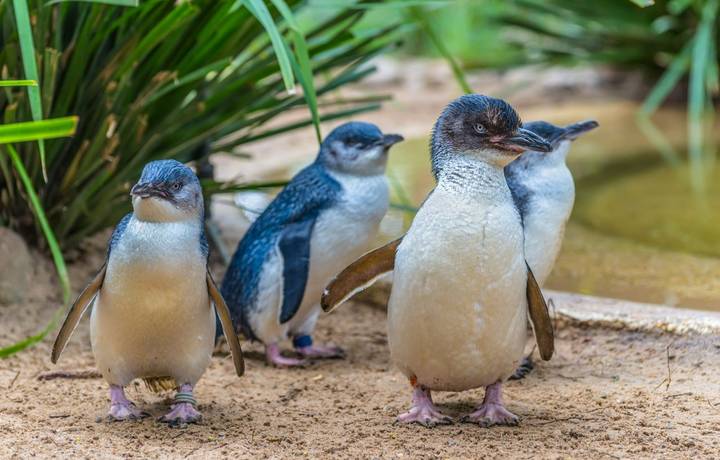 Phillip Island's claim to fame is that it was once the home of the Australian Grand Prix until it was shifted to nearby Melbourne. The track remains, however, and now hosts other motor sport events. The Penguin Parade at Phillip Island Nature Park, in which penguins come ashore in groups, is one of the most popular attractions here, while it's also a prime whale-watching spot, with dolphins and hump-back whales to be found in the local waters.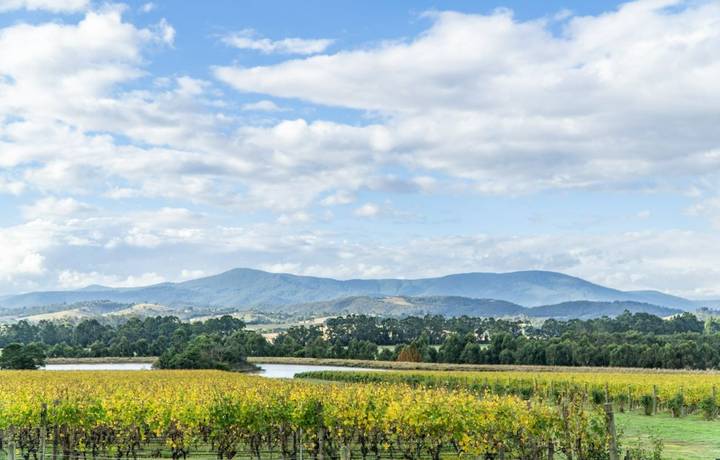 Flourishing Geelong is the second-largest city in Victoria and lies on the shores of Corio Bay. It's undergone a huge facelift in recent years and the results can be seen in the vibrant waterfront precinct and the Art Deco Eastern Beach. Geelong is also the gateway to the Great Ocean Road, a scenic coastline route built by soldiers returning from World War One and dedicated to their fallen comrades.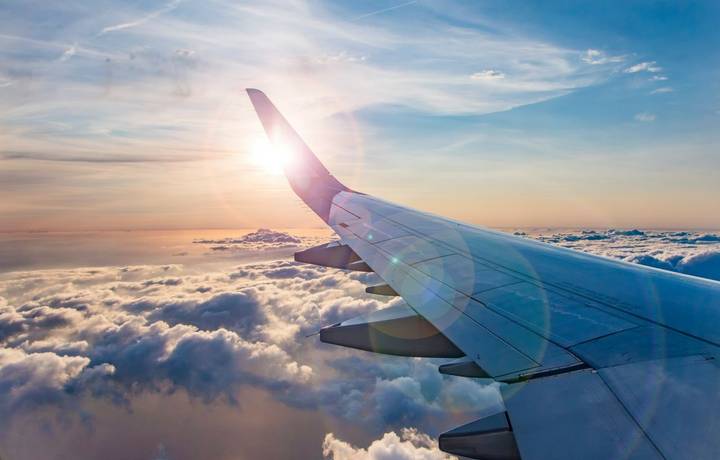 Melbourne
- Disembark Silver Shadow & Fly Home
Today you'll disembark in Melbourne and fly home.
Green Island Resort
Did you know
This superb tropical island hideaway lies on the fringes of the Great Barrier Reef off the coast of Cairns and serves up a perfect blend of adventure and luxury. See the world's biggest captive crocodile at Marineland Melanesia, feast on gourmet dining, relax in the spa or delve into the azure waters surrounding the island. It's a pocket-sized slice of paradise in a magical setting.
Did you know
This superb tropical island hideaway lies on the fringes of the Great Barrier Reef off the coast of Cairns and serves up a perfect blend of adventure and luxury. See the world's biggest captive crocodile at Marineland Melanesia, feast on gourmet dining, relax in the spa or delve into the azure waters surrounding the island. It's a pocket-sized slice of paradise in a magical setting.
Welcome aboard the Silver Shadow
Aboard the Silver Shadow, Silverseas undertake to ensure that you relish, relax, recharge and repeat, and this opulent ship holds true to that promise. Every aspect of this luxurious ship is focussed on making your holiday the best it possibly can be. From the 24 hour Guest Relations specialist, who can assist you with any question or service, to the incredibly spacious and elegant suites, all of which boast stunning ocean views, your whims are always catered to. The chance to energise body and soul is offered with complementary Pilates and yoga classes, fine dining, exceptional wines and extraordinary relaxation spaces like the pool deck. Here you can sit back in a chaise lounge, enjoy the whirlpools or specially acclimatised swimming pool and be waited on by attentive staff who are at the ready with oversized towels and your favourite beverage – this is an indulgent cruise experience.
Entered service: 09/10/1999
Tonnage: 28,258
Number of Decks:
Passenger Capacity: 388
Total Crew: 302
Number of Cabins: 194
Wheelchair Accessible Cabins: Yes
Number of Pools: 1
Number of Restaurants: 3
Kids Club: No

Entered service: 09/10/1999
Tonnage: 28,258
Number of Decks:
Passenger Capacity: 388
Total Crew: 302
Number of Cabins: 194
Wheelchair Accessible Cabins: Yes
Number of Pools: 1
Number of Restaurants: 3
Kids Club: No
regional flights available at a supplement
Departing
Departing
16 January 2022
Classic Veranda Suite
Classic Veranda Suite
$10,899
Superior Veranda Suite
Superior Veranda Suite
$11,399
Deluxe Veranda Suite
Deluxe Veranda Suite
$11,799
Departing
Departing
16 January 2022
Classic Veranda Suite
Classic Veranda Suite
$11,099
Superior Veranda Suite
Superior Veranda Suite
$11,599
Deluxe Veranda Suite
Deluxe Veranda Suite
$11,999
Departing
Departing
16 January 2022
Classic Veranda Suite
Classic Veranda Suite
$10,999
Superior Veranda Suite
Superior Veranda Suite
$11,499
Deluxe Veranda Suite
Deluxe Veranda Suite
$11,899
Departing
Departing
16 January 2022
Classic Veranda Suite
Classic Veranda Suite
$10,999
Superior Veranda Suite
Superior Veranda Suite
$11,499
Deluxe Veranda Suite
Deluxe Veranda Suite
$11,899
Departing
Departing
16 January 2022
Classic Veranda Suite
Classic Veranda Suite
$11,099
Superior Veranda Suite
Superior Veranda Suite
$11,599
Deluxe Veranda Suite
Deluxe Veranda Suite
$11,999
CALL TO BOOK:
1800 958 405
HOLIDAY CODE:
CRU2353