Hobart to Strahan: Tasmanian Discovery Duo
Full day tall ship cruise on board Lady Nelson & Queenstown Explorer Wilderness Train Tour
Exclusive to Imagine Holidays | Limited spaces available | Multiple tours included
Get the full experience...
Fly to Hobart, Tasmania's charming capital, where you'll begin your tour of this fascinating island. A city with plenty to set it apart from the mainland, it is home to handsome British-colonial buildings and a buzzing old port area. Ideal for exploring on foot - especially the Salamanca Street Market with its many old sandstone warehouses and array of galleries and cafes - one of Tasmania's most visited tourist attractions that just happens to have won many awards for excellence.
Next you'll embark the magnificent Lady Nelson for a cruise along the River Derwent. This remarkable tall ship is a full-size replica of the 18th century vessel of the same name which once surveyed the Australian coast. Weather dependent, you could enjoy a stop during your full-day voyage, where you'll be encouraged to pitch in with sailing the ship – perhaps even taking a turn at the helm!
After a day of leisure in Hobart, you'll head to nearby Port Arthur, home to a former penal colony-turned-museum and partake in a visit to Remarkable Cave. You'll then transfer to your hotel in Strahan, gateway to some of Tasmania's finest west-coast attractions.
On your second day in Strahan, a cruise on the Gordon River beckons, which takes in the historic features of Macquarie Harbour. You'll also learn about the harsh penal conditions at the former prison on Sarah Island and explore a rainforest along with aquaculture farms.
On the thrilling Queenstown Explorer Wilderness Carriage, you'll discover how early pioneers shaped this untamed coast, despite the very arduous conditions. Your guide will enthral you with stories of the railway, the region and its people, as you savour the many spectacular views of the King River Gorge.
Transferring back to your hotel in Hobart, you'll have a final day to enjoy at your leisure. If you're still feeling energetic, you can either head to the 1,270m-high Mount Wellington or amble around nearby Battery Point, the historic district with countless narrow lanes and colonial-era cottages.
Package Includes
All flights & taxes
Hotel Stays
5 night four-star hotel stay in Hobart with breakfast
3 night four-star hotel stay in Strahan with breakfast
Fully Escorted Tours*
Full day tall ship cruise on board Lady Nelson cruising the south coast of Tasmania
Port Arthur Historic Site Tour
Heritage train journey on Australia's steepest railway on board the Queenstown Explorer Wilderness Carriage
World Heritage Wilderness Cruise including lunch, Sarah Island visit, rainforest board walk, Macquarie Harbour and Gordon River
Extend Your Stay: 3 Day Gourmet Food & Wine Extension from $499pp
2 nights accommodation in Launceston
2 course lunch with matching wines at Josef Chromy Wines
3 Day Car Hire
*Tour dates may vary.
At a glance
Departing Jan 23 - Mar 23

Prices from
Twin Share
Price based on 27 Jan 2023 departure
Solo Passenger
Price based on 27 Jan 2023 departure
Here to help
Call to book:
1800 958 405
Opening hours:
AWST: Mon to Fri 7am - 5pm | Sat & Sun 7am - 3pm
Queenstown Explorer Wilderness Train Tour
Take a ride on the steepest railway in Australia, which uses the ingenious rack and pinion system. On this delightful journey you'll pass through dense rainforest and deep chasms to the places where the 19th-century pioneers who built this railway once lived and worked. It's the only railway of its kind in the Southern Hemisphere.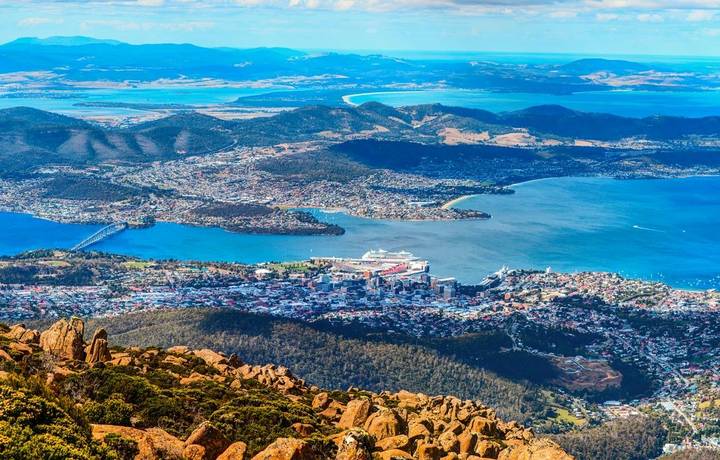 Today you'll fly to the Tasmanian capital, Hobart, founded at the turn of the 19th century as a British penal colony. It's known for its well-preserved colonial architecture, much of which was built during the Georgian and Victorian eras, giving the city a charmingly Old World demeanour. With heritage-listed buildings, historic churches and a refreshing lack of high-rises it has a look that's distinctive from other Australian cities.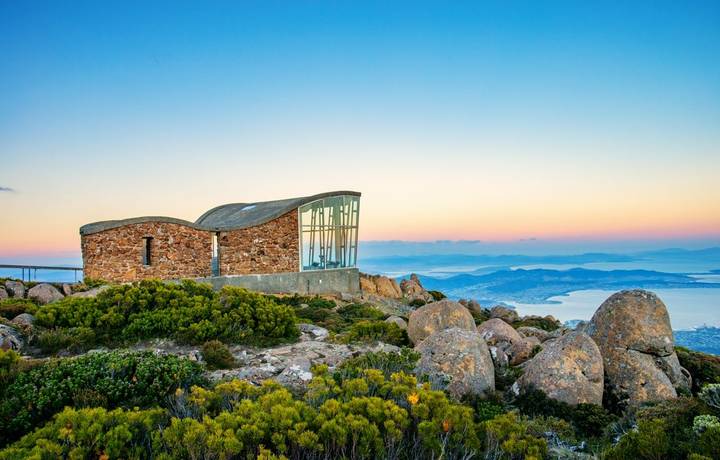 Today you'll have a day of leisure. Take a trip to nearby Mount Wellington, which overlooks the city and offers a number of trails. As well as the views at the summit, you'll get to see its famous 'organ pipes' rock formations. Or you could stick around town and delve into the converted warehouses and flourishing markets around Salamanca Place. Formerly a wharf area serving the whaling industry, it's now teeming with excellent restaurants, chic galleries and independent cafes.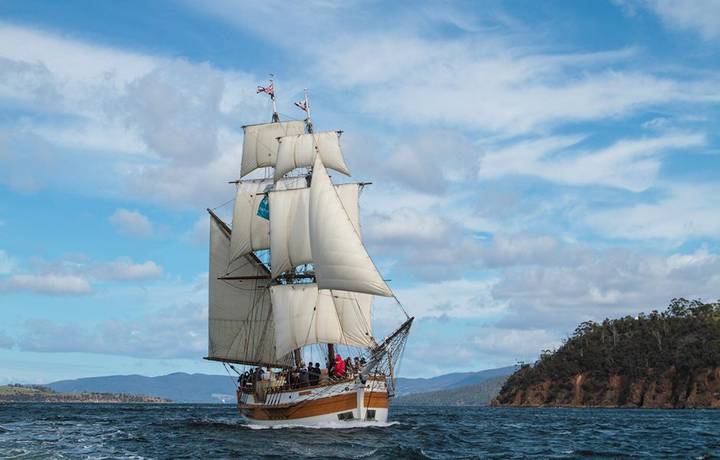 Hobart
- Hotel Stay and Tall Ship Cruise
With her billowing nine sails and elegant silhouette, Lady Nelson is a stunning vessel. A replica of an 18th-century English survey ship – HMS Lady Nelson - it sails the scenic River Derwent, making fascinating stops along the way. Relax and admire the views or help set sails and take to the helm as you navigate local coves and bays, including the Historic Quarantine station on nearby Bruny Island. You're certain of an unforgettable nautical experience.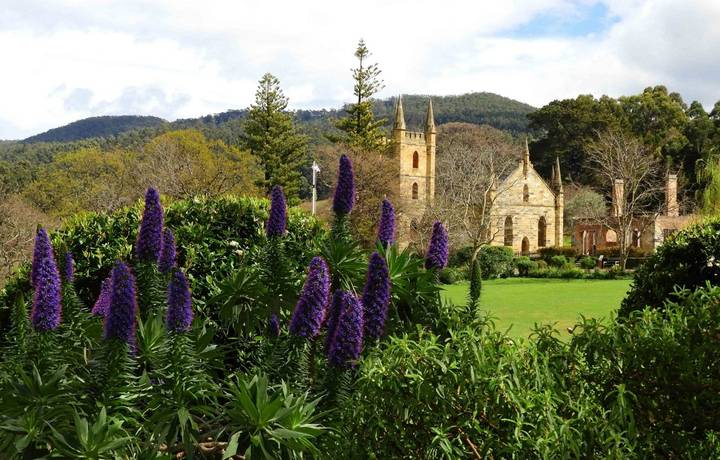 Hobart
- Hotel Stay and Tour
Following a magnificent photo opportunity at Richmond and the Tasman Peninsula, you'll arrive at Port Arthur, a village and historic, former 19th-century penal settlement, which is now an open-air museum. Ruins include the huge penitentiary and the remaining shell of the Convict Church, which was built by inmates. Also on offer is a harbour cruise around the Isle of the Dead and a visit to Remarkable Cave, partly so name due it its unique form and observation platform (please note there is no wheelchair access to the latter).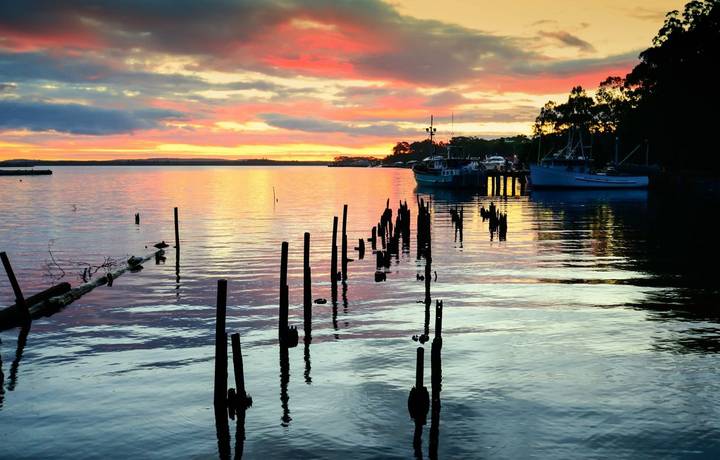 The small port town of Strahan is the gateway to the untainted wilderness of the island's south-west region. Settle into your hotel and explore the surrounding streets, home to several pleasant cafes and restaurants where you can rest and relax ahead of tomorrow's trip. Or make the 6km trip west to Ocean Beach, the island's longest at an impressive 40km.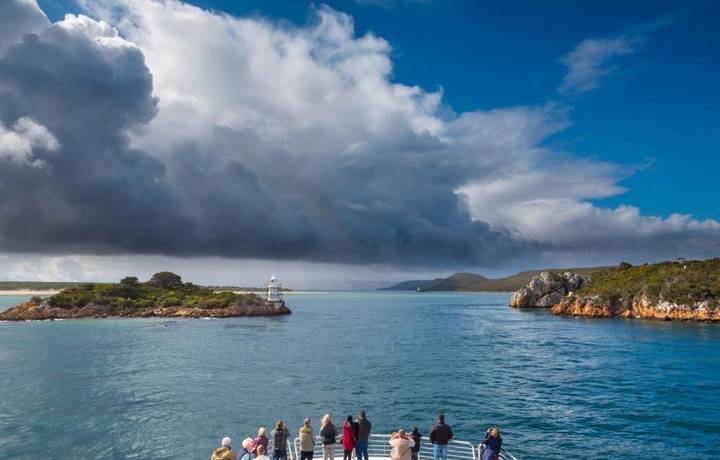 Strahan
- Hotel Stay and River Cruise
Today you'll embark on a fascinating cruise that takes in the diverse attractions of Macquarie Harbour. Visit the family-run Huon Pine Sawmill, which uses antique equipment, and sail out to Sarah Island, once home to a notorious prison. On a guided tour learn about the harsh conditions endured by its inmates, and explore part of the Gordon River, stopping off for a rainforest walk. You'll end the day with a freshly prepared buffet luncheon featuring locally raised smoked salmon.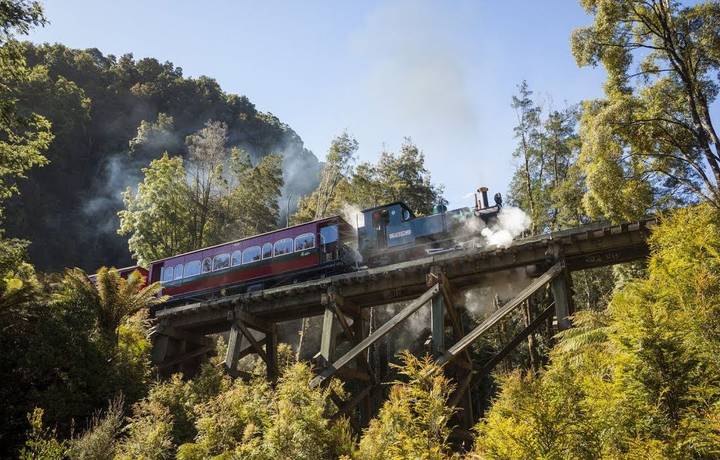 Strahan
- Hotel Stay and Tour
Join us for a full-day heritage rail journey from the harbour port of Strahan, deep into the ancient western wilderness through to the once-booming mining town, Queenstown. Start with a glass of Tasmanian sparkling wine or juice aboard your Wilderness Carriage and enjoy lunch at Queenstown Station. Highlights of the day include a short walk through cool temperate rainforest, the steam-powered journey along the Abt Rack and Pinion section of the railway track, over 40 bridge crossings, and the stories of rivals and legends that built this magnificent railway.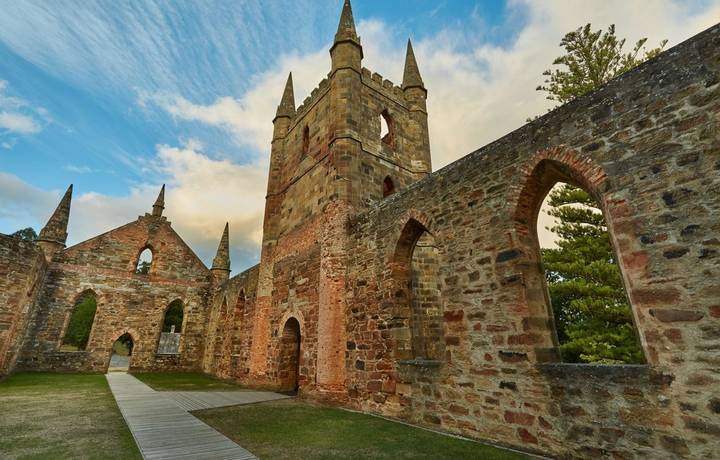 Take a coach back to Hobart for a final overnight stay. Stop at the Tasman Arch or the Devil's Kitchen, renowned rock formations carved by the sea. Be wowed by the museums Hobart has to offer including MONA; Hobart's Museum of Old and New Art and visit one of the many delicious restaurants for a farewell dinner.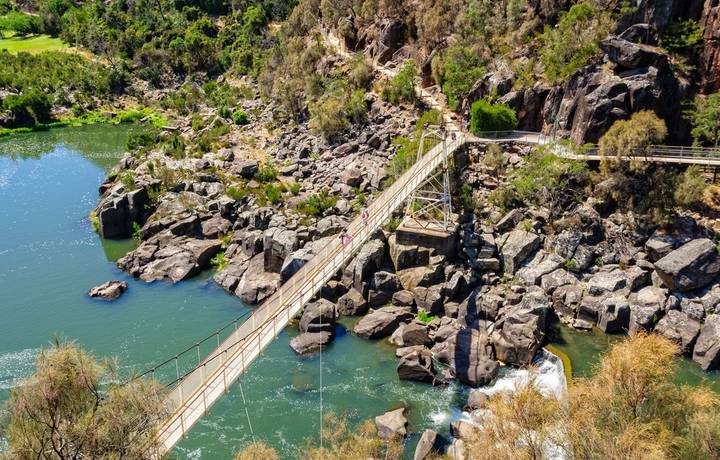 Today you'll fly home from Hobart.
---
EXTEND YOUR STAY:
Pick up your car hire from Hobart CBD location and make your way to Launceston.
This afternoon is yours to enjoy at your leisure. You may wish to explore Cataract Gorge and take the cable-way where you can get panoramic views of the South Esk River.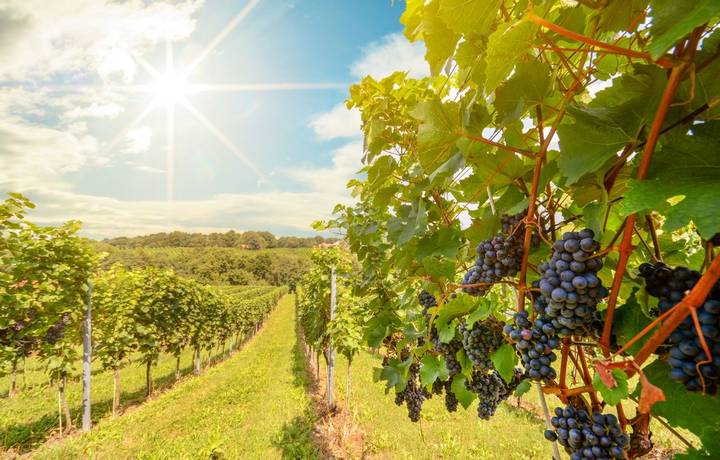 Make your way to Josef Chromy Winery where you will enjoy a complimentary tasting at the Cellar Door and then retire to the restaurant for a two course lunch of fine Tasmanian produce matched with wines.
This afternoon you may wish to explore Bridstowe Lavender Farm a short 50km drive from Launceston. Running over 260 acres this is the world's largest privately-owned lavender farm.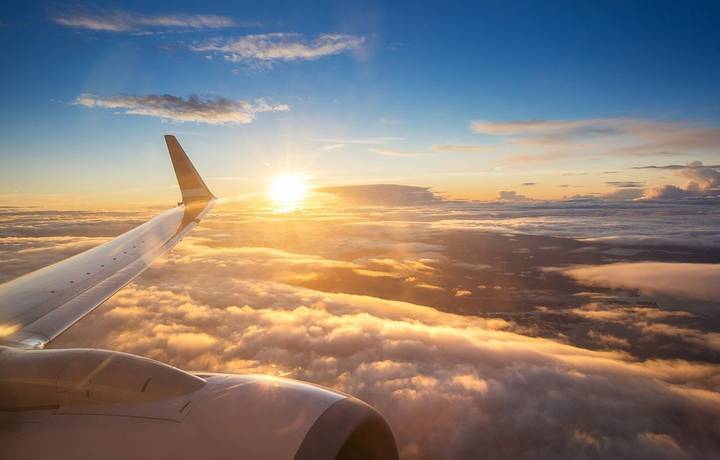 Make your way to Launceston airport for your flight home.
Fully Escorted Tours
Did you know
The Gordon River flows from the uninhabited wilderness of Tasmania's highlands into Macquarie Harbour, and despite being the colour of weak tea due to the absorption of tannin from button grass, the water is actually fresh and drinkable.
Did you know
The Gordon River flows from the uninhabited wilderness of Tasmania's highlands into Macquarie Harbour, and despite being the colour of weak tea due to the absorption of tannin from button grass, the water is actually fresh and drinkable.
regional flights available at a supplement
Departing
Departing
27 January 2023
Departing
24 February 2023
Departing
Departing
27 January 2023
Departing
24 February 2023
Departing
Departing
27 January 2023
Departing
24 February 2023
Departing
Departing
27 January 2023
Departing
24 February 2023
Departing
Departing
27 January 2023
Departing
24 February 2023
CALL TO BOOK:
1800 958 405
HOLIDAY CODE:
TOU2244