India's Ancient Wonders By Rail
Includes fully escorted India tours
8 Day Fully Escorted Palace on Wheels Tour
Get the full experience...
Arrive in India's captivating capital, Delhi, where you'll be entranced by its array of ancient Mughal treasures. A tour of the city on your second day includes such landmarks as the Jama Masjid, India's largest mosque, and the Red Fort. You'll then embark the lavish Palace on Wheels for your journey to Jaipur. Settle into your cabin and immerse yourself in elegant carriages boasting mahogany panelling and sparkling chandeliers. There's even a spa so you can enjoy treatments on the move.
At Jaipur, soak up the sights of the 'Pink City', home to sights including the Palace of Winds and the huge Amber Fort, overlooking the tranquil Maota Lake. You'll then travel to Ranthambore National Park, once a favourite hunting ground for maharajahs but now a reserve that's home to Bengal tigers and sundry other animals. There's even a 10th-century fort in its midst that looms over the park. After a tour in Chittorgarh, where you'll see numerous forts, palaces and temples, you'll enjoy another tour in the atmospheric lake-side city of Udaipur before venturing to Jaisalmer the next day.
Jodhpur, your next destination, is known as the 'Blue City' and is Rajasthan's cultural capital. It's set amidst the stark beauty of the Thar Desert, which forms a natural boundary between India and Pakistan. You'll also visit Bharatpur, a city on the Nepalese border that sits along the Narayani River, a tributary of the Ganges.
You'll then head to Agra where you'll be met with the astonishing sight of the Taj Mahal, built by the emperor Shah Jahan in memory of his late wife who died during childbirth. It's India's most iconic building and little can prepare you for the sight of this opulent structure with its bulbous domes and towering minarets.
Before returning home you'll get one more day to immerse yourself in the myriad attractions of Delhi.
Package Includes
All flights & taxes
Rail Journey
7 night full-board luxury Palace on Wheels rail journey with breakfast and dinner & fully escorted tours visiting; Jaipur, Ranthambore National Park, Chittorgarh, Udaipur, Jaisalmer, Jodhpur, Bharatphur and Agra
Hotel Stays
3 night hotel stay in Delhi with breakfast
Fully Escorted Tours
Delhi Sightseeing including lunch at a local restaurant

Ranthambor National Park

Chittorgarh Tour
Udaipur Tour including lunch at the Palace hotel
Taj Mahal Visit
At a glance

Prices from
Here to help
Call to book:
1800 958 405
Opening hours:
AWST: Mon to Fri 7am - 5pm | Sat & Sun 7am - 2pm
Taj Mahal
The tragic love story that gave rise to the Taj Mahal only adds to the timeless allure of this iconic building. Built by the emperor Shah Jahan in honour of his wife who died during childbirth, this mausoleum with its opulent domes and minarets forms the pinnacle of Mughal architecture.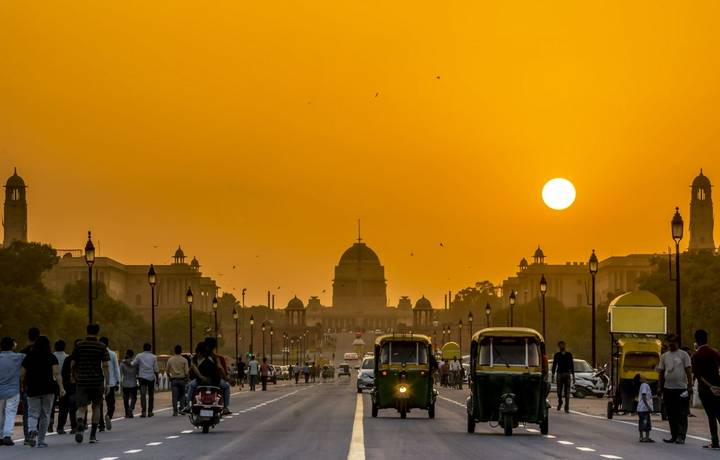 DAY 1 - 2
| 4 - 5 Oct 2021
A gateway to the heart of the country, India's capital has been witness to the rise and fall of numerous emperors in its tumultuous history, all of whom have left a rich legacy. Made up of seven ancient cities, Delhi is the world's second largest urban area and is an intoxicating mix of ancient wonders and innovative modern architecture like the Lotus Temple. Enjoy your afternoon at leisure and explore India Gate, immerse yourself in a traditional Indian market, or witness the breathtaking sights as the sun sets over Rashtrapati Bhavan.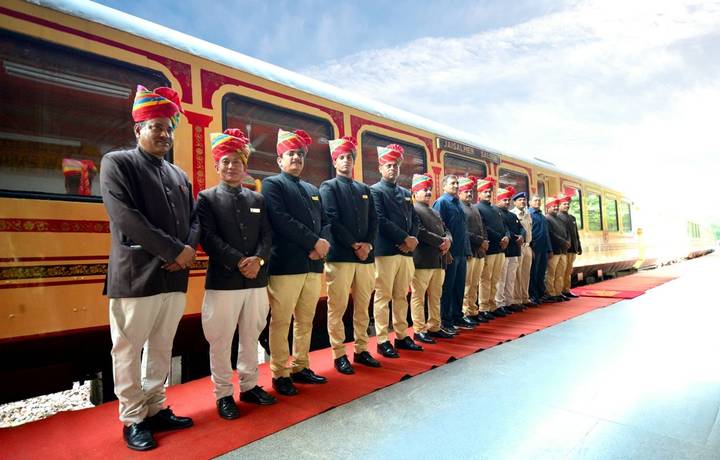 Jaipur
- Embark Palace on Wheels
After a tour of Humayun Tomb and Qutub Minar,you'll embark the Palace on Wheels this afternoon, a luxury train with the décor of a royal palace and an ambiance that perfectly complements India's majestic landscapes. You'll enjoy a welcome ceremony before being shown to your cabin by your personal attendant. As the train pulls away, get to know your fellow travellers with a welcome drink in Bar Lounge before enjoying your first dinner on board.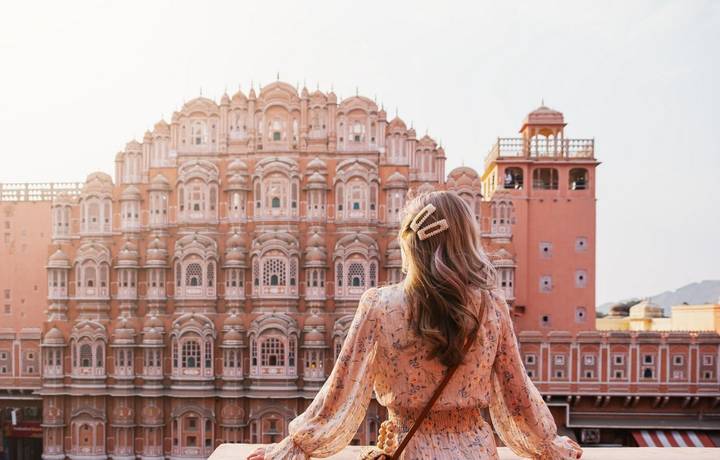 This morning you'll arrive at the capital of Rajasthan,the Pink City of Jaipur. Here you'll visit St. Albert Museum, the Pink City Palace and Jantar Mantar. After a photo stop at the Palace of the Winds, you'll enjoy lunch at the beautifully preserved Amber Fort, with time to explore its courtyards and rare fusion of Rajput and Mughal architecture.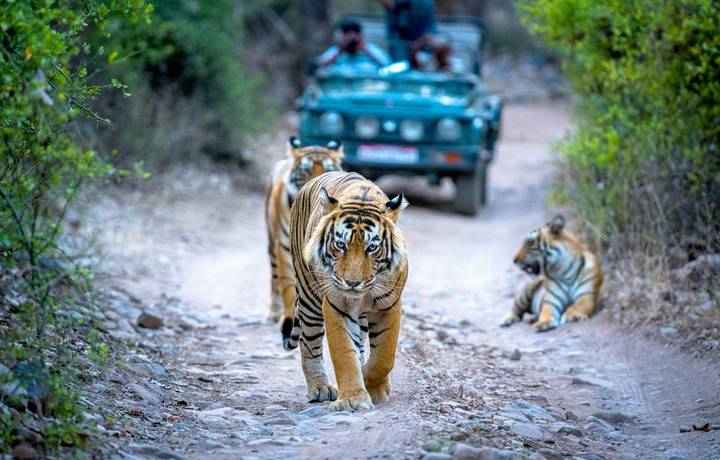 Sawai Madhopur & Chittorgarh
It's an early start this morning as you swap your trainfor a 15-person canter and drive to Ranthambhore Tiger Reserve for a jungle safari. One of the most popular reserves in India, the reserve is home to tigers, panthers and crocodiles. You'll return to the train for lunch and an afternoon rest before an excursion to Chittogarh Fort, India's largest fort where you'll enjoy a light show before returning to the train for dinner.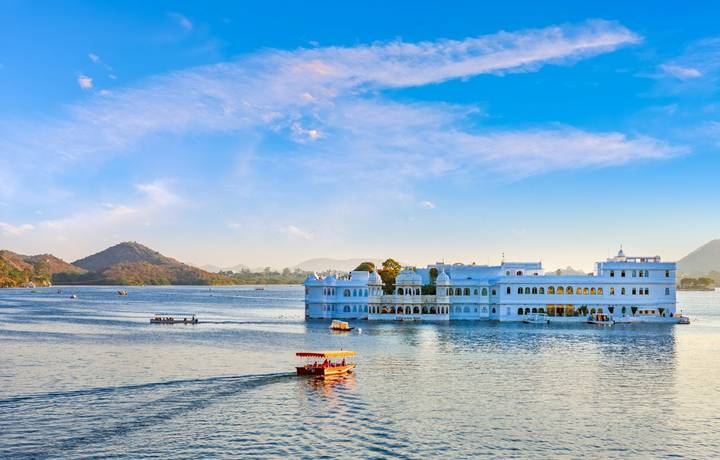 You're sure to be charmed by Udaipur, one ofIndia's most romantic destinations where elegant marble buildings are reflected in the peaceful waters of Lake Pichola. You'll visit the majestic City Palace, housing 11 magnificent palaces, and enjoy a boat ride to see the Lake Palace that sits atop a small island in the middle of the lake. After lunch at Fatehprakash Palace Hotel, you'll visit the Royal Gardens at Saheliyon Ki Bari.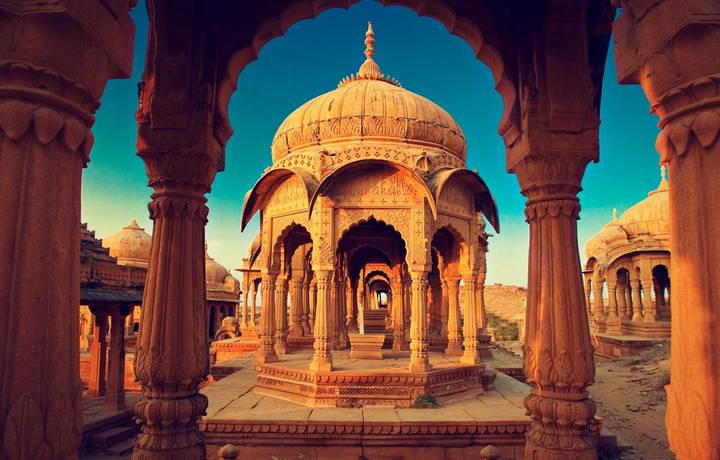 Jaisalmer Fort is like something from an Arabian Nightsfable. This 15th century fort towers over the town and glows golden yellow in the afternoon sun. After visiting the fort and beautifully carved buildings around the city, you'll return to the train for lunch and a rest, ahead of your evening entertainment. As the sun sets, ride across the sand dunes on a camel before enjoying a cultural show and dinner at a five-star hotel.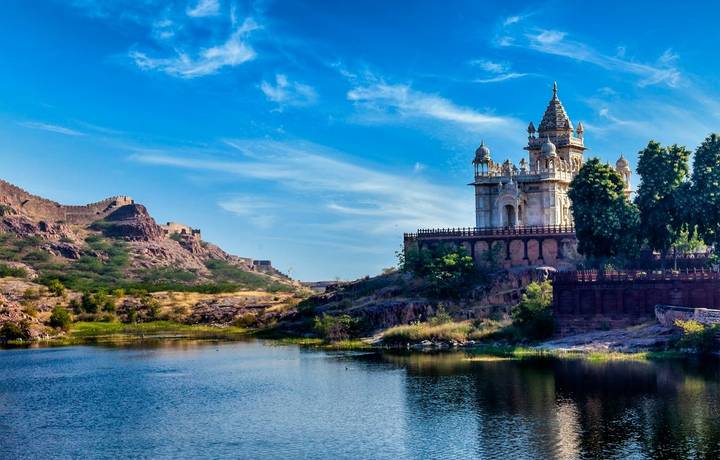 Arriving in the blue city of Jodhpur, you'll headstraight for the Mehrangarh Fort, sitting on a rocky hill above Jodhpur town and explore its breathtaking palatial apartments overlooking wide courtyards. After lunch, you'll return to the train and depart for Agra.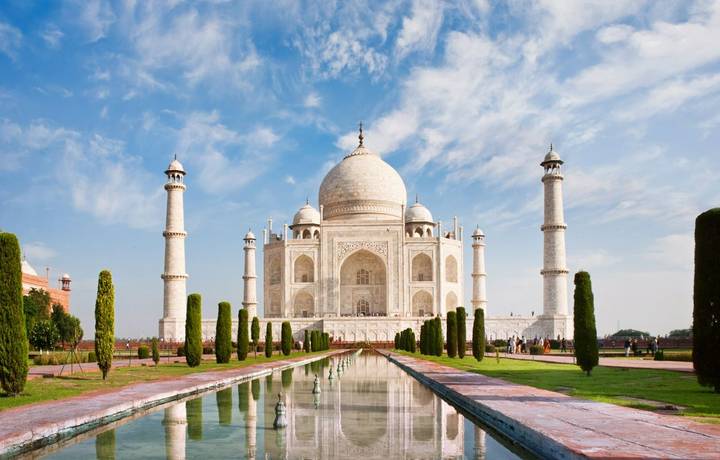 You arrive in Agra late morning and yoursightseeing tour starts with a visit to the Agra Fort, the seat of power of the once mighty Mughal Empire. After lunch, a highlight of your journey awaits: a visit to the majestic Taj Mahal, one of seven wonders of modern world and a flawless architectural wonder built in white marble.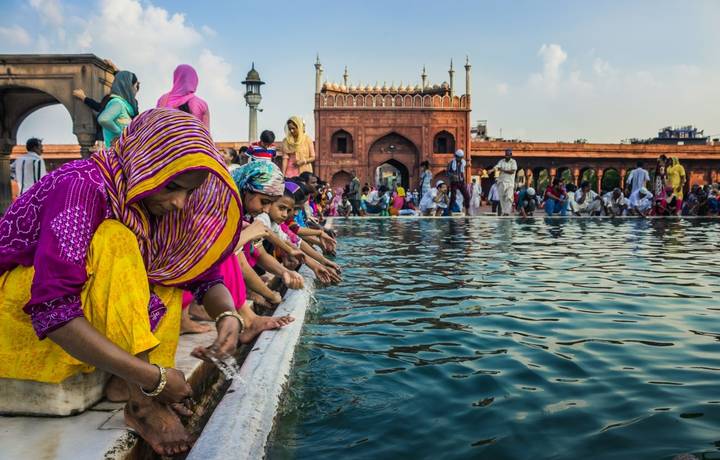 Delhi
- Disembark Palace on Wheels and Hotel Stay
The train will return to Delhi's Safdarjung RailwayStation at dawn. After a final breakfast on board, you'll say farewell to your regal home and disembark the Palace on Wheels for your hotel stay. During your last day in India you'll enjoy a tour of Old Delhi that includes visits to the magnificent Red Fort and Jama Masjid.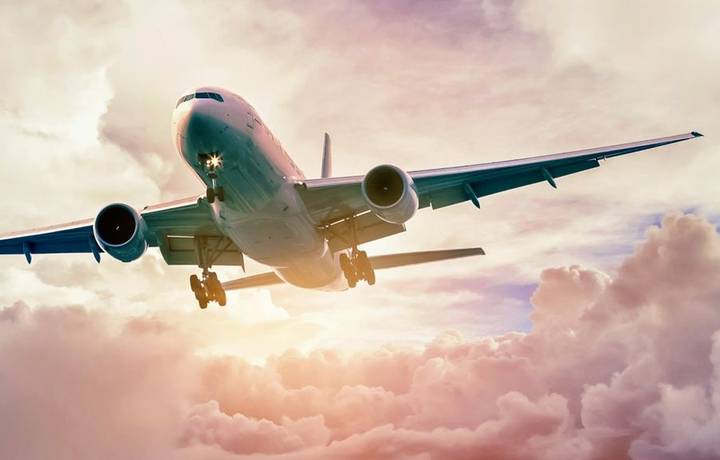 Your ancient wonders of India discovery complete, today you'll transfer to the airport for your flight home.
Welcome aboard the Palace on Wheels
Know the facts
See everything from tigers to the Taj Mahal while travelling on the regal Palace on Wheels. Featuring your own personal attendant, a spa car, two restaurants and antique wooden furniture, you can sit back, relax and watch as India's diverse scenery unfolds outside your window.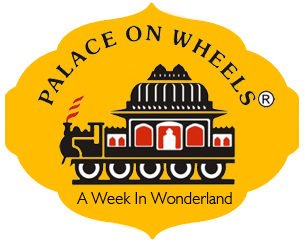 Know the facts
See everything from tigers to the Taj Mahal while travelling on the regal Palace on Wheels. Featuring your own personal attendant, a spa car, two restaurants and antique wooden furniture, you can sit back, relax and watch as India's diverse scenery unfolds outside your window.
regional flights available at a supplement
CALL TO BOOK:
1800 958 405
HOLIDAY CODE:
TRA2232