Luxury Golden Triangle Tour & All-Inclusive Asia Voyage
Includes an all-inclusive luxury Silversea cruise with complimentary shore excursions*
7 Day Fully Escorted Five-Star Golden Triangle Tour
Get the full experience...
Enjoy an enthralling, all-inclusive cruise on Silver Shadow that takes in some of the Far East's favourite coastal cities before touring India's incredible Golden Triangle region.
Arriving in Hong Kong for an overnight hotel stay, you'll find one of the world's best-known harbours, set before a glittering skyline and the impressive Victoria Peak. Take in the sights from the waterfront area or wander the diverse markets of Kowloon for kitsch souvenirs.
You'll then embark Silver Shadow for an unforgettable cruise on a ship packed with amenities and features and boasting lavish surroundings. After a night in port in Hong Kong you'll begin your voyage to Singapore, stopping at some of Vietnam's coastal gems along the way. Reaching the port of Chan May, you could head to either Hue, with its impressive Imperial City complex, or Da Nang, surrounded by raw natural beauty.
You'll then stop at Da Nang itself where you could head south for the day to the delightful city of Hoi An. Vietnam's charming capital Ho Chi Minh City is your next destination, a place that's teeming with French colonial character and ancient traditions. Visit the Cu Chi Tunnels, once an underground hideaway used by Viet Cong soldiers and catch a water-puppetry performance.
Arriving in Laem Chabang near Bangkok for an overnight in port, you'll have two days to explore Thailand's capital, an intriguing mix of colourful floating markets and gold-plated temples. You'll then disembark in Singapore, where an overnight hotel stay gives you the chance to sample the attractions of this futuristic metropolis. Take in panoramic views from the SkyPark or see the famous Supertrees, stunningly illuminated at night.
Transferring to Delhi, delve into India's wealth of treasures during a fully escorted Golden Triangle tour that begins in the country's intoxicating capital, Delhi. Marvel at its multi-layered history and colourful street life before travelling to Agra, site of the world-famous Taj Mahal, a masterpiece in white marble. The heart-breaking story behind its construction is as fascinating as the building itself.
Yet more architectural splendour can be found in the incredible Pink City of Jaipur, home to the Hawa Mahal, also known as the Palace of the Winds. In this city you'll also find the magnificent Amber Fort beside the scenic Maota Lake. Within this vast sandstone and marble palace are ornate pavilions, exquisitely tiled ceilings and courtyards filled with water features and meticulously kept gardens – all are an integral part of India's rich and illustrious history.
Package Includes
All flights, taxes & transfers
Fully Escorted Tours
Tour of Jama Masjid Mosque, Raj Ghat, Humayun's Tomb, Qutub Minar and more
Tour of the Taj Mahal, Agra Fort and Fatehpur Sikri
Tour of Amber Fort, Hawa Mahal, the City Palace, Jantar Mantar Observatory and more
All-Inclusive Cruise
14 night all-inclusive luxury cruise on board Silver Shadow

Complimentary premium shore excursions included at every port*
Pre-paid gratuities and complimentary WI-FI on board
In-suite butler service and fully stocked fridge for all suites
All-inclusive beverages including fine wines, beers and premium spirits

Overnights in port in Hong Kong and Bangkok
2 nights in port in Ho Chi Minh City
Hotel Stays
1 night five-star hotel stay in Hong Kong at the Harbour Grand Kowloon with breakfast
1 night five-star stay in Singapore at the One Farrer Hotel with breakfast
3 night five-star hotel stay at the Vivanta New Delhi Dwarka with breakfast
1 night five-star hotel stay at the Trident Agra with breakfast
2 night five-star stay at the Jaipur Marriott Hotel with breakfast
*Offer includes one excursion per guest, per port/day. Additional excursions available at an extra charge
At a glance

Prices from
Here to help
Call to book:
1800 958 405
Opening hours:
AWST: Mon to Fri 7am - 5pm | Sat & Sun 7am - 3pm
Silversea
Soak up the quintessential Silversea experience of all-inclusive luxury cruising with white-gloved butler service, lavish public areas and exceptional quality at every level. Open-seating dining options and a gastronomic reputation equalled by few other shipping lines adds up to a voyage like no other.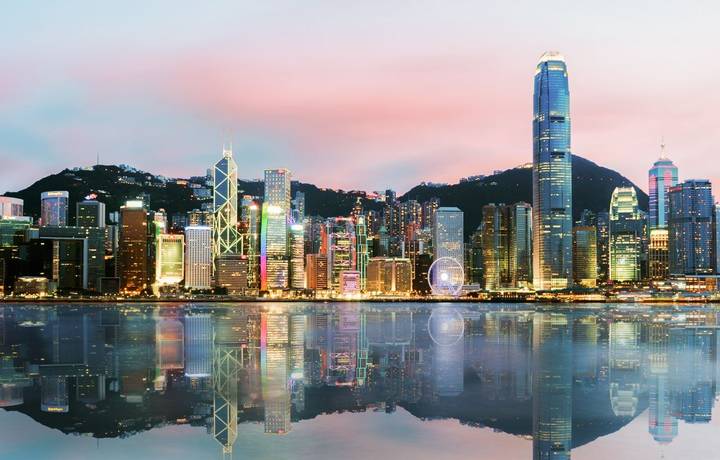 Begin your holiday with a one-night hotel stay in Hong Kong, during which you can explore this jewel of the Far East, a city with a rich and colourful history that includes over a hundred years of British colonial rule. Stroll along the atmospheric waterfront where you'll find the Avenue of Stars, modelled on Hollywood's Walk of Fame. The bronze statue of kung fu legend takes pride of here. After dark the harbour is lit up by the nightly Symphony of Lights display.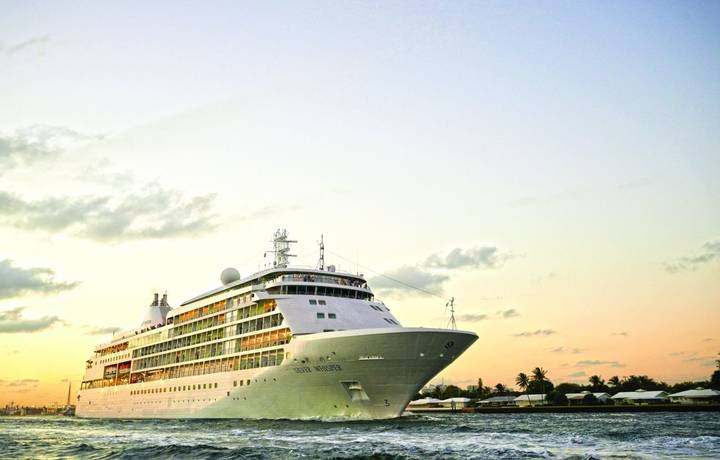 Hong Kong
- Embark Silver Shadow (Overnight in Port)
Today you'll embark Silver Shadow for your voyage to Singapore. The award-winning Silver Shadow offers a wonderfully luxurious experience at sea, with spacious suites and your own personal butler while on board. The 382-passenger, all-inclusive ship is the perfect size to offer a traditional cruising experience with an intimate feel that makes every passenger feel truly treasured.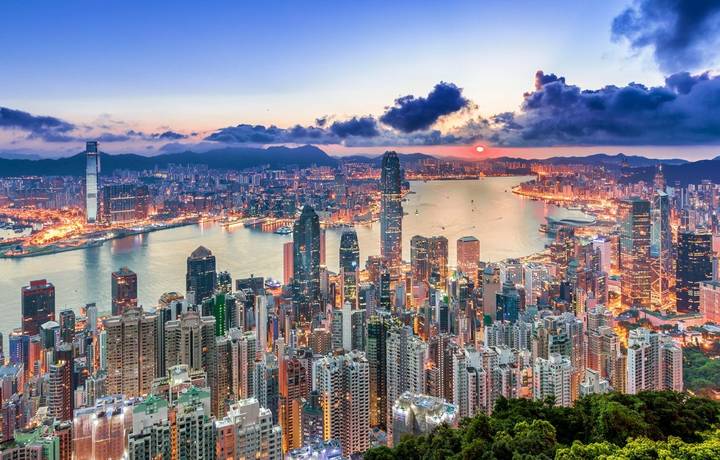 Hong Kong's bustling streets are filled with things to see and do, whether you wander the night markets and malls of Kowloon and the neon-lit stores of Nathan Road, or admire the weird and wonderful skyscrapers of Hong Kong Island. Beyond the city, there's even vast theme parks where you can enjoy a fun-filled day out, including Hong Kong Disneyland and Ocean Park Hong Kong with its hair-raising fairground rides and aquariums. For sensational harbour views, head up the summit of Victoria Peak.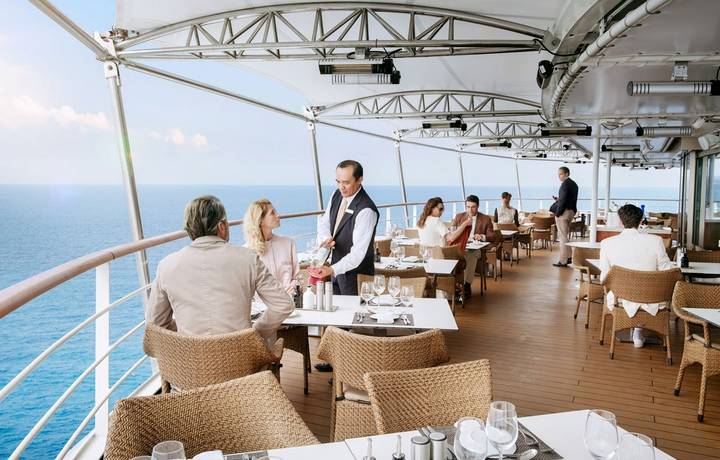 Silversea's round-the-clock butler service ensures all your needs are met on your days at sea. You'll find yourself attended to by immaculately clad, white-gloved staff, all of whom are professionally trained to the highest standards and are able to give you their undivided attention. Together with one of the highest staff-to-guest ratios at sea, it ensures a Silversea cruise is something truly special.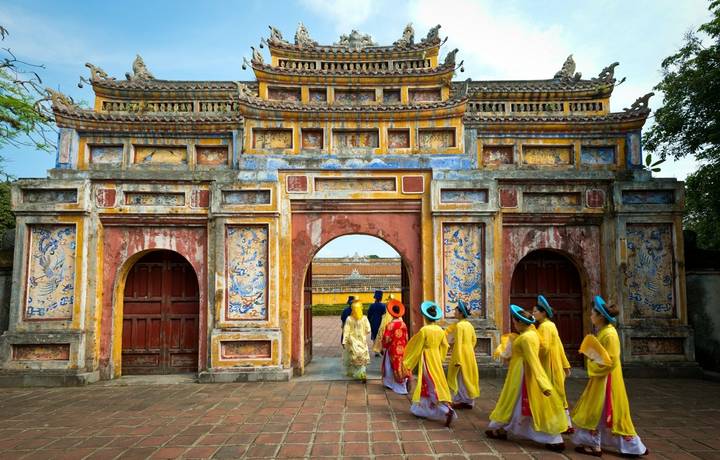 From the port of Chan May you'll be able to explore the cities of Hue or Da Nang. Hue is home to the Imperial City, a 19th century citadel that was once the capital of Vietnam. It's surrounded by a moat filled with water directed from the nearby Perfume River, so-called because during autumn its surface is coated with flowers that fall into it from orchards upstream. Da Nang is the fifth largest city in the country. Explore its natural beauty by taking a cable car into the Ba Na Mountains.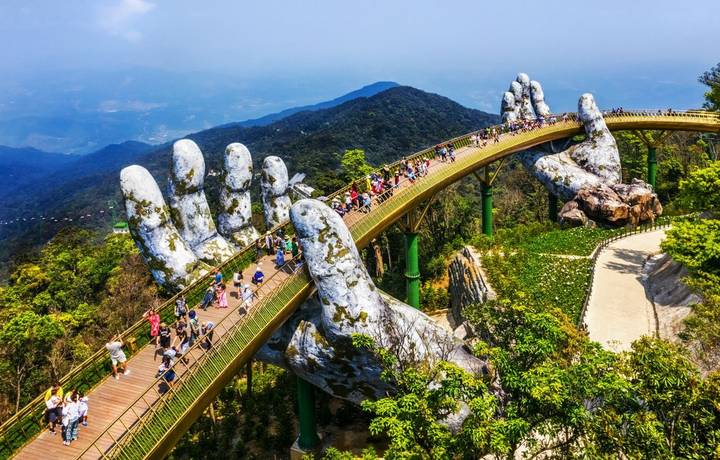 There's something to savour on every street corner in Da Nang. Golden beaches are within easy reach of the city, as are the Marble Mountains, with their limestone caves and Buddhist shrines. Da Nang is also ideal for visiting the charming city of Hoi An, a short drive to the south. The old town is a UNESCO World Heritage Site, known for its ancient, covered Japanese bridge. For a spectacular sight, be sure to visit Cau Vang (or 'Gold Bridge'), held up by a pair of giant stone hands.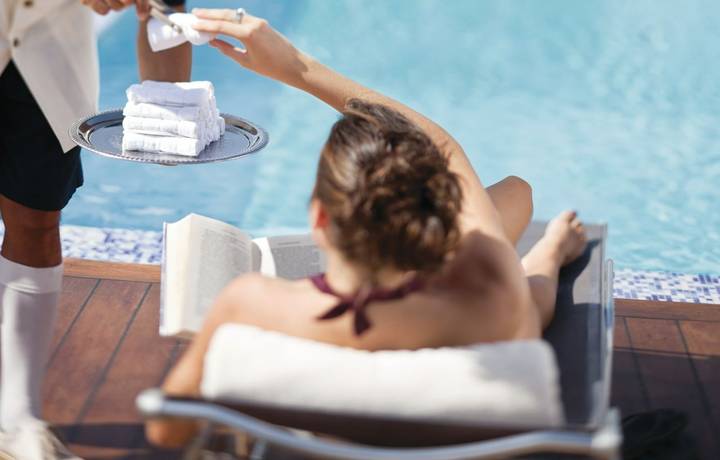 Make sure you soak up the best of the Silversea experience on your day at sea. This superb luxury cruise line leaves no stone unturned when it comes to its guests' satisfaction. Find an elegant corner of a bar or lounge to contemplate the adventures ahead of you. Or sit back in your spacious, ocean-view suite, and make the most of the fabulous butler service.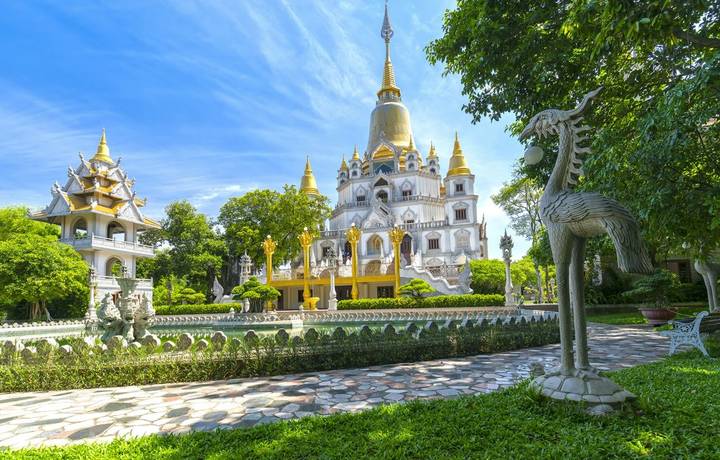 Ho Chi Minh City (Overnight in Port)
Previous known as Saigon, Ho Chi Minh City is a bustling capital that's bursting with everything from lively street markets to French colonial relics. It's also famous for the role it played in the Vietnam War, and its underground Cu Chi tunnels, once the base for Viet Cong fighters, are now a museum and popular tourist attraction. This modern metropolis also boasts chic designer malls, boutiques and contemporary restaurants and bars to rival any city in the Far East.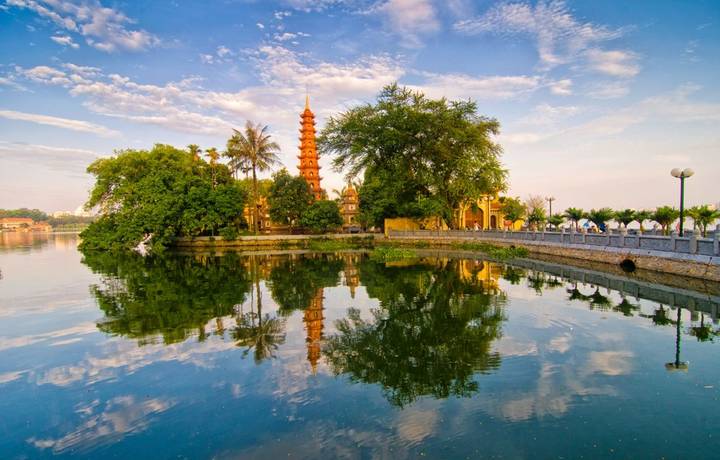 Ho Chi Minh City (Overnight in Port)
A variety of cultures converge on the streets of ho Chi Minh, where you'll find ornate Chinese pagodas rubbing shoulders with sleek modern high-rises and Communist-era military buildings that are frozen in time. You'll also discover alleyways that are home to incense-filled temples and food stalls brimming with delicious bánh xèo and noodle soup. Find one of the many sky-high cocktail bars in the gleaming office towers for panoramic views over the frenetic streets below.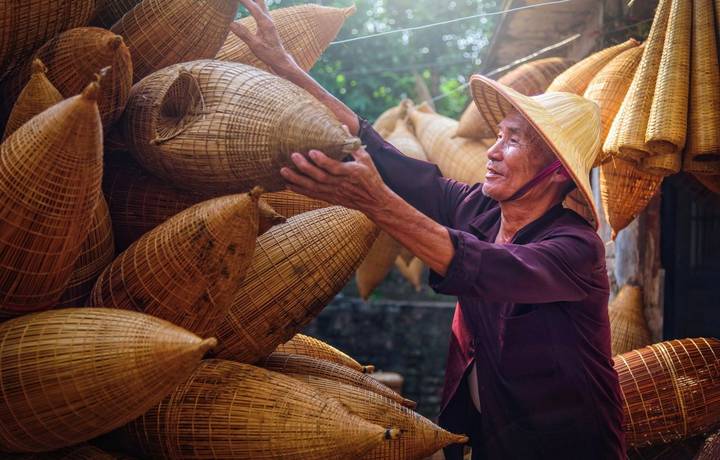 Explore Ho Chi Minh City's French colonial relics such as the 18th-century Notre-Dame Cathedral, with its striking bell towers, and the Municipal Theatre, formerly the Saigon Municipal Opera House. A traditional form of entertainment here is wooden puppetry and a performance at the Golden Dragon Water Puppet Theatre will leave a long-lasting impression. This enchanting spectacle originated in the paddy fields, hence why it's performed on water, and is accompanied by talented musicians and singers.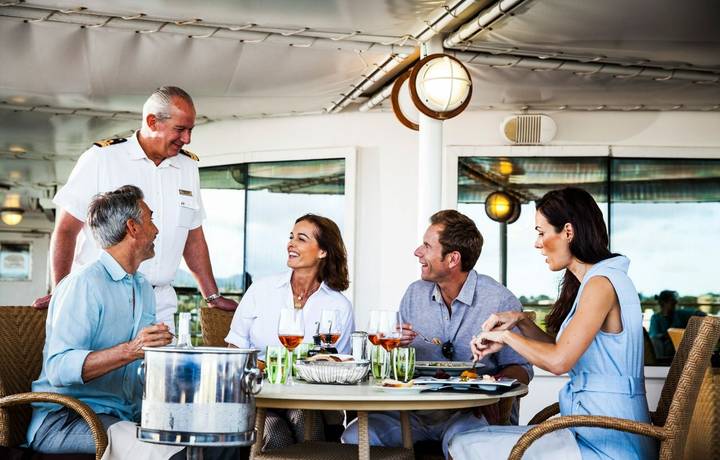 Dining with Silversea means feasting on some of the finest gourmet cuisine at sea. Sample the French gastronomic masterpieces at the chic and contemporary La Dame, try the international dishes at The Restaurant or try the Italian at La Terrazza. Dining venues aboard this superb ship offer open-seating dining, which means there are no assigned times and no assigned tables. You are free to dine when, where and with whom you please.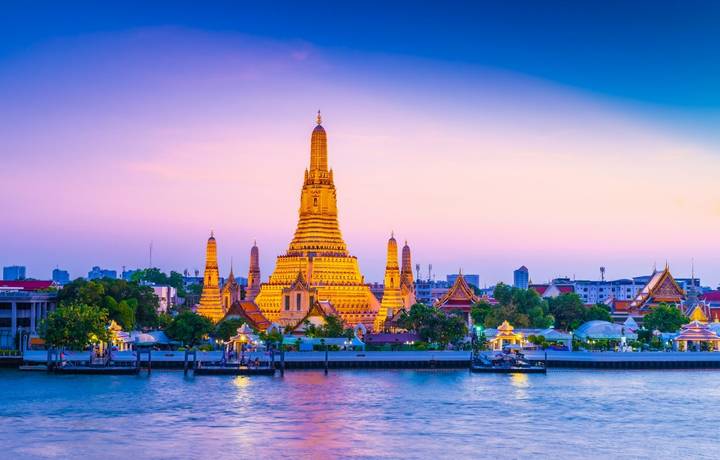 Bangkok (Overnight in Port)
Today you'll arrive in the Thai capital of Bangkok. Watch out for the strikingly beautiful temple of Wat Arun with its distinctive spires and Ordination Hall, whose entrance is flanked by two imposing demonic statues. Situated along the banks of the Chao Phraya River, it glimmers day and night due to being coated in colourful porcelain. Take a boat ride here and see the rows of gleaming Buddhas within, then find a vantage point to watch the sun set behind it.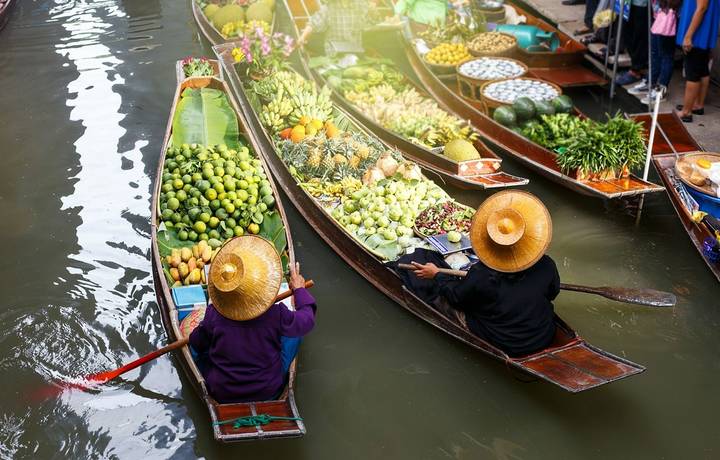 The floating markets in Bangkok are one of the country's biggest attractions and a fantastic way to delve into the city's culture. Step on board a beautifully decorated long-tail boat and meander your way through the waterways to the market, lined with stalls selling anything from souvenirs to seafood, massages to mangoes. Just 29km from the centre of Bangkok, you'll find the Bang Phli floating market, one of the oldest floating markets in the city.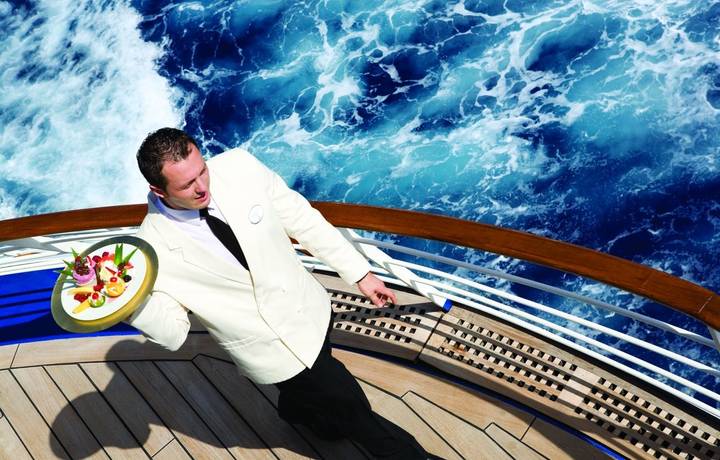 DAY 14 - 15
| 22 - 23 Nov 2022
Enjoy complimentary cocktails, live music and engaging conversation with new friends at The Bar, or gaze out, drink in hand, at the vista from the Panorama Lounge. It's the perfect place to unwind, enjoy afternoon tea, listen to the pianist and watch the sun set. At Connoisseur's Corner you could settle into a plush leather armchair with a cognac and a good book, or indulge in snacks on deck as you take in the ocean views.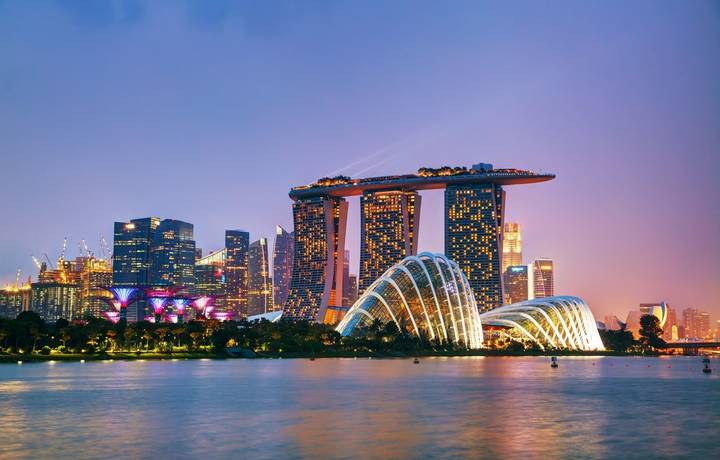 Singapore
- Disembark Silver Shadow & Hotel Stay
Disembark Silver Shadow in Singapore for a one-night hotel stay in this scintillating city, where sacred temples sit in the shadows of sleek, futuristic architecture. Head to the Marina Bay Sands resort, home to the jaw-dropping SkyPark, and see the otherworldly Supertrees of Gardens by the Bay. It's also home to the famous colonial-style Raffles Hotel, where the Singapore Sling cocktail was invented, as well as the famous hawker stalls where you'll find the world's most celebrated street food.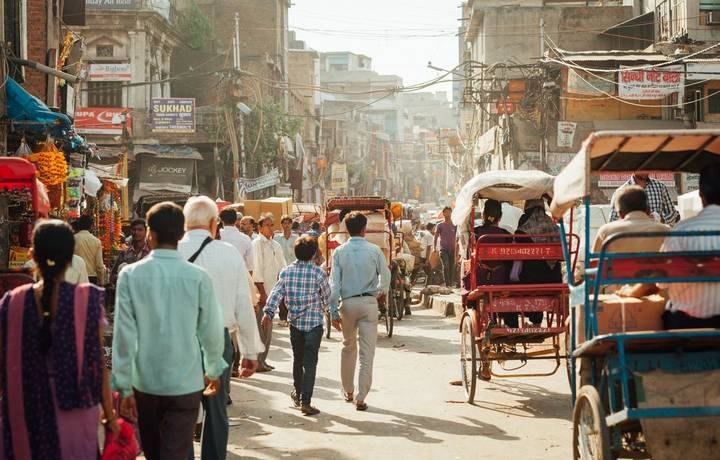 Fly to Delhi, Indian's sprawling, multi-layered capital and the gateway to the astonishing Golden Triangle region. An exhilarating feast for all the senses, Delhi comprises seven ancient cities that have joined together over the centuries and is full of innovative modern wonders too. The beautiful, flower-shaped Lotus Temple is an architectural marvel and one of just many wonderful photo opportunities in this eye-opening city.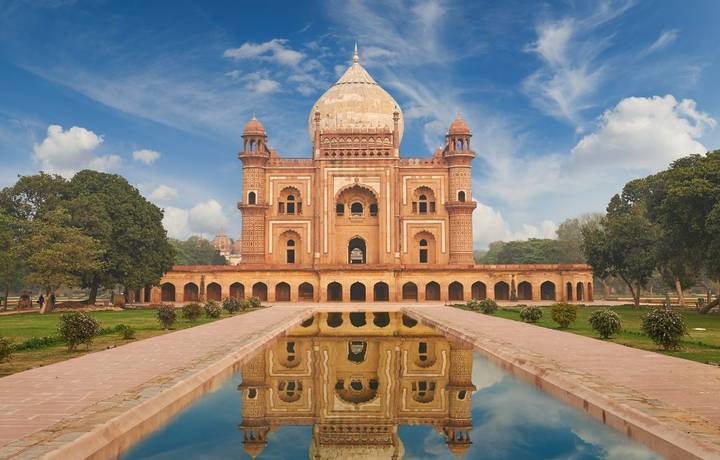 Delhi
- Hotel Stay & Tour
Your full day of sightseeing includes a tour of the 300-year-old walled city of Old Delhi. Visit the most elegant mosque in India, the Jama Masjid, characterised by its black and white onion dome and minarets, and Raj Ghat, where Mahatma Gandhi was cremated in 1948. You'll also see the imposing India Gate on a tour of New Delhi and visit Humayun's Tomb and Qutab Minar.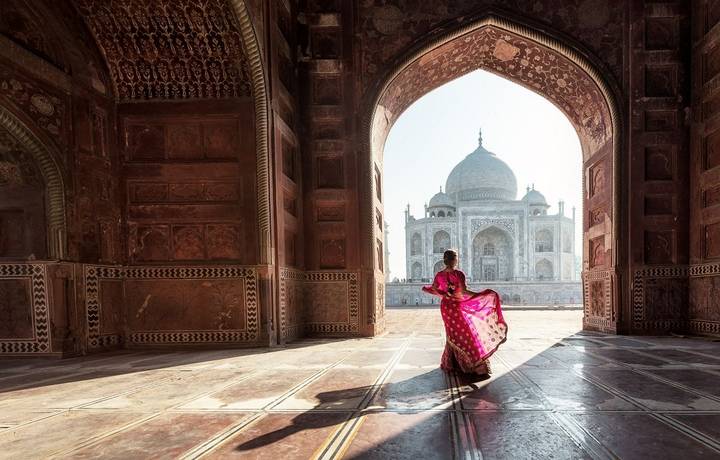 In Agra, you'll visit the inimitable Taj Mahal. A domed masterpiece in white marble with beautiful inlay work and soaring minarets, it's the country's best-known architectural icon. The love story behind its conception is as fascinating as the building itself. You'll also travel to the mighty Agra Fort, an outstanding example of Mughal architecture and the capital of the Mughal Empire for generations.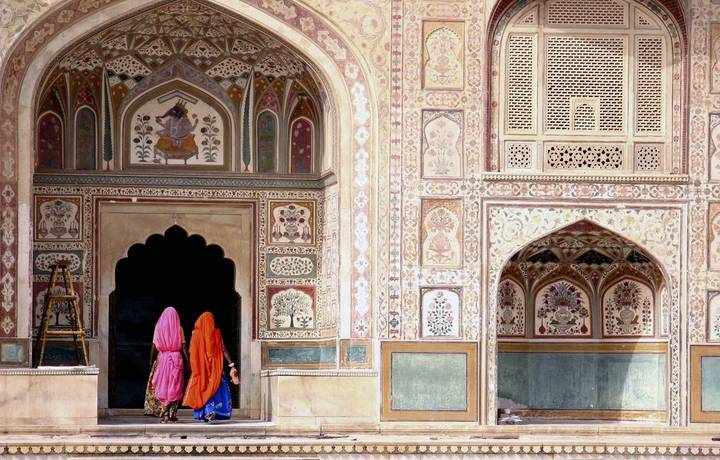 Jaipur
- Hotel Stay & Tour
On your way to the vibrant capital of Rajasthan, you'll stop at Fatehpur Sikri, a deserted red sandstone city built by the Mughal Emperor Akbar as his capital in the late 16th century. The 54-metre-high main entrance is an imposing edifice that embodies the power of the Mughals. Later, you'll arrive at the incredible 'Pink City' of Jaipur, one of the highlights of your Golden Triangle tour.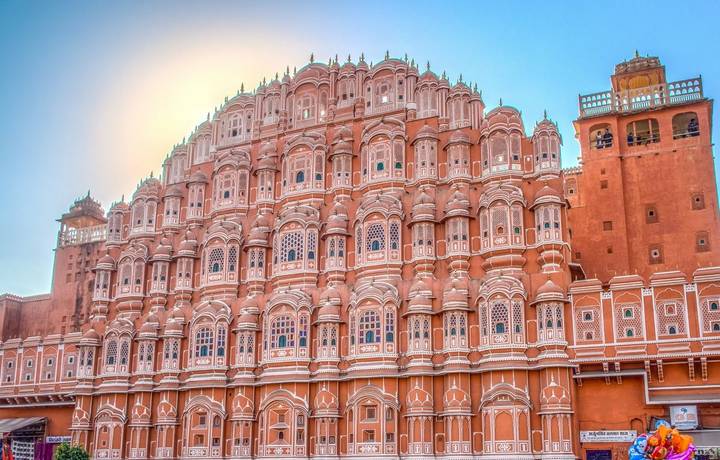 Jaipur
- Hotel Stay & Tour
During your time in Jaipur you'll see the intriguing red sandstone Hawa Mahal (Palace of Winds), built so that royal ladies could discreetly view the streets below. You'll also visit the Amber Fort, overlooking the tranquil Maota Lake and filled with opulent treasures and jaw-dropping mirror-tiled rooms as well as the awe inspiring Jantar Mantar Observatory. The latter is an astrological and astronomical wonder built by Maharaja Jai Singh in the 18th century.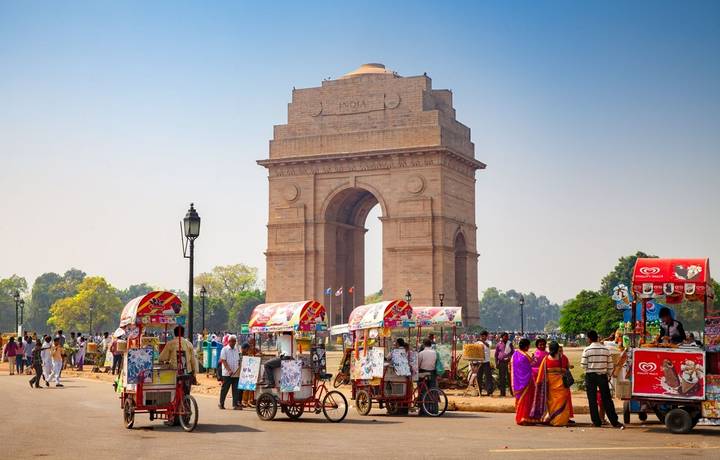 With one more day in Delhi, explore all this intoxicating city has to offer. For a memento of your stay, look no further than Dilli Haat, an open-air bazaar and food plaza. You'll find plenty of locally made handicrafts made from sandalwood, leather and brass. Connaught Square is the commercial hub of the city and features many heritage buildings from the time of the British Raj.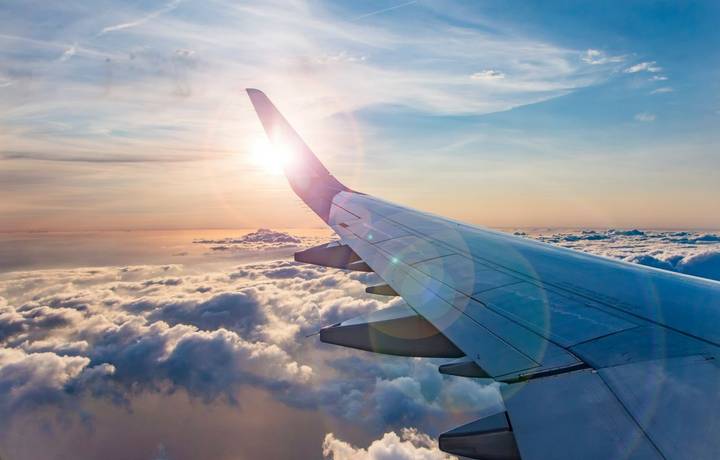 Today your Indian adventure ends and you'll fly home from Delhi.
Golden Triangle Tour
DID YOU KNOW
Explore the captivating wonders of the Golden Triangle with a series of fascinating tours where you'll experience the rich culture and incredible sights of three of India's most popular destinations, Delhi, Agra and Jaipur.
DID YOU KNOW
Explore the captivating wonders of the Golden Triangle with a series of fascinating tours where you'll experience the rich culture and incredible sights of three of India's most popular destinations, Delhi, Agra and Jaipur.
Welcome aboard the Silver Shadow
Aboard the Silver Shadow, Silverseas undertake to ensure that you relish, relax, recharge and repeat, and this opulent ship holds true to that promise. Every aspect of this luxurious ship is focussed on making your holiday the best it possibly can be. From the 24 hour Guest Relations specialist, who can assist you with any question or service, to the incredibly spacious and elegant suites, all of which boast stunning ocean views, your whims are always catered to. The chance to energise body and soul is offered with complementary Pilates and yoga classes, fine dining, exceptional wines and extraordinary relaxation spaces like the pool deck. Here you can sit back in a chaise lounge, enjoy the whirlpools or specially acclimatised swimming pool and be waited on by attentive staff who are at the ready with oversized towels and your favourite beverage – this is an indulgent cruise experience.
Entered service: 09/10/1999
Tonnage: 28,258
Number of Decks:
Passenger Capacity: 388
Total Crew: 302
Number of Cabins: 194
Wheelchair Accessible Cabins: Yes
Number of Pools: 1
Number of Restaurants: 3
Kids Club: No

Entered service: 09/10/1999
Tonnage: 28,258
Number of Decks:
Passenger Capacity: 388
Total Crew: 302
Number of Cabins: 194
Wheelchair Accessible Cabins: Yes
Number of Pools: 1
Number of Restaurants: 3
Kids Club: No
regional flights available at a supplement
Departing
Departing
9 November 2022
Departing
11 November 2022
Classic Veranda Suite
Classic Veranda Suite
$11,999
Classic Veranda Suite
$12,299
Superior Veranda Suite
Superior Veranda Suite
$12,999
Superior Veranda Suite
$12,699
Deluxe Veranda Suite
Deluxe Veranda Suite
$13,999
Deluxe Veranda Suite
$12,999
Departing
Departing
9 November 2022
Departing
11 November 2022
Classic Veranda Suite
Classic Veranda Suite
$12,099
Classic Veranda Suite
$12,299
Superior Veranda Suite
Superior Veranda Suite
$13,099
Superior Veranda Suite
$12,699
Deluxe Veranda Suite
Deluxe Veranda Suite
$14,099
Deluxe Veranda Suite
$12,999
Departing
Departing
9 November 2022
Departing
11 November 2022
Classic Veranda Suite
Classic Veranda Suite
$12,299
Classic Veranda Suite
$12,599
Superior Veranda Suite
Superior Veranda Suite
$13,299
Superior Veranda Suite
$12,999
Deluxe Veranda Suite
Deluxe Veranda Suite
$14,299
Deluxe Veranda Suite
$13,299
Departing
Departing
9 November 2022
Departing
11 November 2022
Classic Veranda Suite
Classic Veranda Suite
$12,199
Classic Veranda Suite
$12,499
Superior Veranda Suite
Superior Veranda Suite
$13,199
Superior Veranda Suite
$12,899
Deluxe Veranda Suite
Deluxe Veranda Suite
$14,199
Deluxe Veranda Suite
$13,199
CALL TO BOOK:
1800 958 405
HOLIDAY CODE:
CRU2366